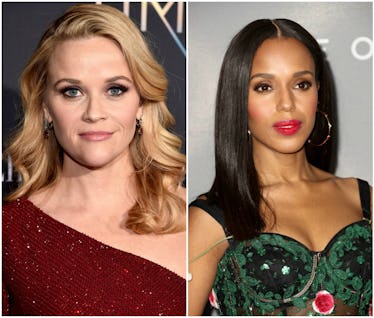 Reese Witherspoon's Turning Another Book Into A TV Drama, This Time With Kerry Washington
lberto E. Rodriguez/Getty Images Entertainment & Frederick M. Brown/Getty Images Entertainment
If I had to pick someone who I thought was capable of providing the entire world with entertaining TV for a lifetime, Reese Witherspoon would be at the top of the list. She has produced highly acclaimed films and worked with celebrity BFF Nicole Kidman to bring a Big Little Lies series into our lives. In a similar move, Witherspoon will now star in and executive produce a Little Fire Everywhere series alongside Kerry Washington that is based on author Celeste Ng's bestselling book. Time to add a new title to my TBR list!
Deadline reports that the limited series adaptation will be produced by Witherspoon's thriving company Hello Sunshine, Washington's Simpson Street, and a cable / streaming division of ABC Studios. At the moment, the project is being pitched to various premium and streaming networks, so it's still uncertain if the series will launch on HBO or a streaming site such as Hulu or Netflix.
In a pattern that is becoming the norm for Witherspoon, she first called attention to the 2017 book Little Fires Everywhere through her joint book club with her production company. It was named the club's September 2017 read, joining a series of picks that have since included Jill Santopolo's The Light We Lost and Brene Brown's Braving the Wilderness. I never thought I'd enjoy being a part of book clubs, but I may have to start following Witherspoon's group based on those books alone.
While explaining on the club's Facebook page why she chose the highly-praised read, Witherspoon wrote:
This deep psychological mystery about two families in Ohio moved me to tears. Celeste Ng writes with stunning accuracy about the power of motherhood, the intensity of teenage love, and the danger of perfection. And a fire that destroys it all.
Ng's book follows an enigmatic mother-daughter pair who rent an Ohio home from a family with four children, who become intrigued about the new tenants. The New York Times bestseller found itself on several "Best Book of the Year" lists, including those of Amazon, Barnes & Noble, Entertainment Weekly, and The Washington Post.
Witherspoon announced the book's adaptation with Ng at her side in a video posted to her book club's Facebook page on Friday.
Witherspoon and Washington reportedly came together for the project after they were both interested in creating an adaptation. The series is currently being developed at ABC Signature, which is the cable / streaming branch of ABC Studios. While Witherspoon plans to executive produce under the name of Hello Sunshine, Washington will do the same with Simpson Street. Longtime TV writer Liz Tigelaar has written the script and also plans to serve as executive producer and showrunner. Even Ng will be included in the adaptation, reportedly working as a producer.
In typical bashful-author-meets-Hollywood fashion, Ng shared the exciting news on her Twitter.
In an adorable turn of events, one of the first public responses she received to the tweet was from Hamilton creator Lin-Manuel Miranda. If that isn't enough of an endorsement, I think it's safe to say that we can expect to see Little Fires Everywhere receive plenty of awards love in a year or two.
With this announcement out in the open, Witherspoon continues in her ongoing quest to casually dominate Hollywood. Once a limited series, Big Little Lies will soon return to HBO for Season 2, while Witherspoon is also working on three different series with Apple.
Snagging the adaptation deal is also a huge victory for Washington's production company. Simpson Street has recently nabbed an ABC pilot starring How I Met Your Mother star Alyson Hannigan.
Like I said, I'm more than fine with Witherspoon basically ruling the entertainment industry and turning everyone's favorite reads into TV and movie hits. I'll definitely keep my eye on this project for more insight into its eventual premiere.