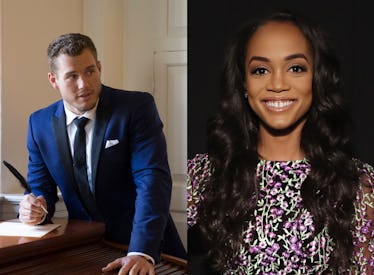 Former 'Bachelorette' Rachel Lindsay Just Got Real About Colton's Intentions With Becca
ABC & Cindy Ord/Getty Images Entertainment/Getty Images
I know the official rule of Bachelor Nation is that whatever Chris Harrison says is law, but for me, I find former Bachelorette Rachel Lindsay to be the true sage of the franchise. After all, she even whipped out a log of sage to cleanse the Bachelor mansion for Becca Kufrin's season. Other than her willingness to help a gal out whenever she can, Rachel has spent her first year as a former leading lady blogging about the current Bachelorette season, and she's totally on point about some of Becca's men. Particularly, Rachel Lindsay's comments about Colton's intentions with Becca sum up exactly how we're all feeling about the former football player's time on the show.
Although Bachelorette fans understandably love Colton Underwood's face, he's already given viewers plenty of reasons to believe that he won't become Becca's Prince Charming. On his first group date of the season, he confessed to Becca that he had a brief pre-show relationship with her Bachelor co-star Tia Booth, and both Becca and viewers questioned if Colton pursued Tia believing she would be the Bachelorette. After Tia popped up on another group date with other Bachelor ladies, shared her side of the story, and gave Becca her blessing to continue on with Colton, Becca was seemingly fine with their past dalliance.
On Becca and Colton's one-on-one date in Episode 5, they insisted to each other that they were past the Tia drama, but I was among the viewers who didn't quite buy it. Did anyone else think that not much was actually discussed about Colton and Tia's special weekend/relationship/*insert Colton's most recent excuse*?
Luckily, Season 13 Bachelorette Rachel has spoken out about Colton in her Us Weekly blog, proving that at least one of the franchise's other leads isn't quite immune to sketchiness Colton radiates. While Rachel also believed that Becca and Colton's camels veering away from each other was a bad sign, she admitted that, if she were Becca, she wouldn't be able to move away from the thought of Colton and Tia, writing:
Every time Colton opened his mouth he talked about Tia. How awkward it must be for Becca to sit in the hot tub and talk about another woman also known as her "best friend." Way to kill the mood, Colton. Becca literally had to shut him up by kissing.
Rachel didn't limit her critique of the Colton and Tia fiasco to the blog. During the episode, she took to Twitter about how the two were inseparable to her.
Thank goodness someone finally said it!
The night portion of Colton and Becca's date culminated in Colton telling Becca that he was falling in love with her, and while fans with less emotional investment in The Bachelorette may have swooned, Rachel led the vast majority in rolling their eyes. Rachel wrote:
Who else sighed at the end of the night when he said 'I am falling in love with you, Becca'? So, I love you's are sacred to you yet you conveniently drop the phrase in a couple of weeks? Well that was a quick change of events. I feel like Colton is saying the routine and 'right' things with no passion behind them. His eyes are saying one thing and his mouth is saying another. I want Becca to hop on whatever is faster, that big bus or the camel, and get as far away from Colton as possible. We don't believe you, Colton.
Leave it to fancy attorney Rachel to explain with perfect clarity why we just can't get over smirking at Colton. She may have to feign innocence about Colton's future in the franchise, but we've all heard about those Bachelor in Paradise shenanigans, right? It's just difficult to believe Colton's relationship with Becca when his post-show happenings are now well-known. But that being said, I'll still be watching with popcorn in hand to see how this scenario ends.
The Bachelorette returns on Monday, July 2, at 8 p.m. ET on ABC.