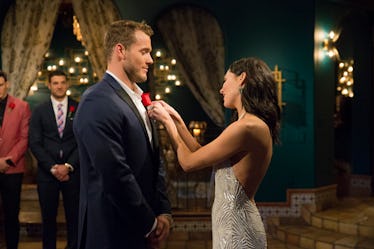 Becca & Colton Went On A 1-On-1 Date & Bachelor Nation Started Squealing
ABC
At this point, when it comes to which guys will likely leave Becca Kufrin's Bachelorette season with a relatively unscatched reputation, Colton Underwood is still a mixed bag. Although he started out as a strong contender, Colton admitting that he had a short-lived relationship with Bachelor star Tia Booth slightly shifted the audience's perceptions of his intentions. Even awkwardly contriving a meeting between Colton and Tia on a group date didn't exactly clear up the two's history, but Becca is still willing to give Colton a chance, and after tonight, so is a lot of Bachelor Nation. Becca and Colton went on a one-on-one date on The Bachelorette, and fans everywhere can't stop squealing.
Taking a break from the bright lights of Las Vegas, Becca brought Colton out to the desert for their first one-on-one date. Using clever wordplay, she told him, "I thought we'd switch it up...[and] get over the humps of our past relationships." Cue the camels! As Colton and Becca climbed aboard their new rides, a team of producers likely hurried their cardboard cutouts of Tia and Arie Luyendyk off set for the time being.
By inviting Colton on a one-on-one, Becca's intentions seemed to be to gauge his true feelings for her without distractions from filler guys like Jordan. The date kicked off sweetly, with both Becca and Colton seemingly enjoying their camel rides, but things got a little awkward when Becca's camel kept veering away from Colton's. If this is foreshadowing how Becca and Colton's relationship will end, it looks like they don't exactly have a cheery road ahead of them.
The camel ride concluded with a dip in the hot tub, where Colton described his most consistent emotion as "frustration." He admitted he was happy with the way they moved past the Tia issue (but did they?), and then Becca began a makeout session with him, doing what any of us would honestly do if we were half-dressed alongside Colton. If there's anything fans on Twitter are in agreement about, it's the appeal of Colton's face.
The night portion of the date took a slightly scandalous turn, as Colton referenced his past serious relationship as the only time he was in love. Complete with many "um's," he revealed that his ex was the one to break off the relationship, and anyone who has kept tabs on Colton's past knows that this mystery woman was definitely his ex-girlfriend, Olympic gymnast Aly Raisman. Some of Bachelor Nation didn't exactly appreciate this not-so-subtle shoutout to Colton's public relationship.
But apart from his clear discomfort in trying to explain the relationship, Colton actually handled it quite sweetly, saying that because of that experience, he doesn't throw around the word "love" lightly. He admitted to having walls up, but he confessed to Becca that she's helping him break that guard down.
As Becca is a sane woman who likes a good-looking man, it wasn't a shock when she gave him a rose. This relationship could end horribly, but because The Bachelorette has blessed us with Colton's face, I definitely won't complain. ABC even treated Bachelor Nation especially well and provided us with some swoon-worthy footage of Colton's kissing skills at the end of his date.
Amidst all the offscreen drama of this season, ABC has finally scored some points because of this, but Colton and Becca gushing over each other didn't win over fans who are caught up with their Bachelor in Paradise filming drama. At this point in filming The Bachelorette, was Colton just biding his time until he could meet up with Tia again? The fact that former Bachelorette Rachel Lindsay has even weighed in on the situation definitely says a lot.
Let's be honest — we know that Becca most likely doesn't end up with Colton, but part of the appeal of watching The Bachelorette is just having some escapist fun. We can all innocently enjoy footage of Colton's pretty face for now, right?
The Bachelorette returns on Monday, July 2, at 8 p.m. ET on ABC.