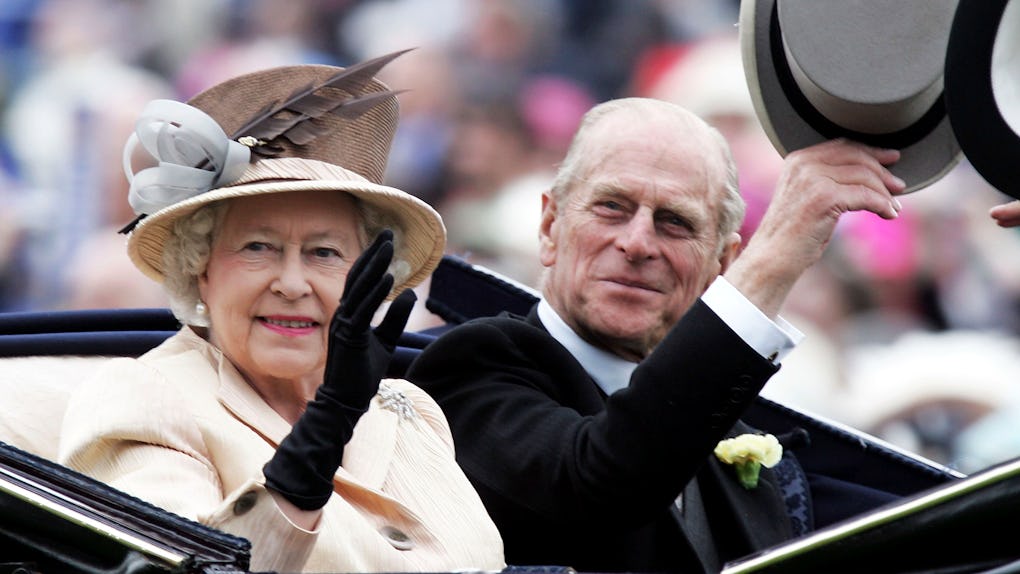 Chris Jackson/Getty Images Entertainment/Getty Images
Queen Elizabeth's Quotes About Her Marriage To Prince Philip Will Warm Your Heart
It's been more than 70 years at this point — November 2018 will mark 71 years — but Queen Elizabeth's marriage to Prince Phillip is still going strong.
It all started in 1934, when the two met at the wedding of Prince Philip's cousin, Princess Marina of Greece and Denmark, and Queen Elizabeth's uncle, Prince George, Duke of Kent, according to Romper. At the time, Elizabeth was only eight years old, and Philip was 14. In 1939, they met again at the Royal Naval College in Dartmouth, became friends — though the Queen was already reportedly smitten by him— and began writing letters to one another.
According to E!, Prince Philip spent Christmas with the royal family in 1943, and the two were reunited again in 1945, after the war ended. The couple got engaged in 1946, though they held off on announcing the engagement until after the Queen's 21st birthday (April 21, 1947), ultimately sharing the news with the public on July 9. The two were married on Nov. 20, 1947, and had their first child together, Prince Charles, a year later, on Nov. 14, 1948, later having three more children.
Over the years (and decades, really!), Queen Elizabeth has shared several sweet quotes about her marriage to Prince Philip, and they're all sure to warm your heart.
Queen Elizabeth Clearly Believes In Their Bond
In 1947, after their wedding, Queen Elizabeth wrote her parents a letter in which she described their newlywed bond, according to the Mirror.
"We behave as though we had belonged to each other for years."
In November 1972, 25 years into their marriage, Queen Elizabeth gave a speech while celebrating the couple's Silver wedding anniversary at the Guildhall, according to Harper's Bazaar.
If I am asked what I think about family life after 25 years of marriage, I can answer with equal simplicity and conviction, I am for it.
And 25 years later, during their Golden wedding anniversary celebration at Banqueting House in London, the Queen had this to say:
All too often, I fear, Prince Philip has had to listen to me speaking. Frequently we have discussed my intended speech beforehand and, as you will imagine, his views have been expressed in a forthright manner. He has, quite simply, been my strength and stay all these years, and I, and his whole family, and this and many other countries, owe him a debt greater than he would ever claim, or we shall ever know.
The Queen Repeatedly Calls Prince Philip Her "Strength"
Continuing on in a similar vein about strength, in 2002, Queen Elizabeth spoke lovingly about her husband during her Golden Jubilee speech at the Guildhall.
I take this opportunity to mention the strength I draw from my own family. The Duke of Edinburgh has made an invaluable contribution to my life over these past fifty years, as he has to so many charities and organisations with which he has been involved.
And according to the Mirror, she also mentioned the Prince's strength and guidance in 2012, in her Diamond Jubilee address to the Parliament at Westminster Hall:
Prince Philip is, I believe, well known for declining compliments of any kind. But throughout he has been a constant strength and guide.
It's easy to see how much Queen Elizabeth values that strength and how it's helped keep their relationship steady over the years.
Prince Philip Shares Some Sweet Moments, Too
Prince Philip has had his fair share of heartwarming quotes about the Queen, too. In 1946, just a year before the two were married, Prince Philip wrote the Queen a letter, including:
To have been spared in the war and seen victory, to have been given the chance to rest and to re-adjust myself, to have fallen in love completely and unreservedly, makes all one's personal and even the world's troubles seem small and petty.
And, of course, at their 50th wedding anniversary celebration, the Queen wasn't the only one with thoughts on their relationship. During a toast, Prince Philip shared his advice for a happy marriage:
I think the main lesson we have learnt is that tolerance is the one essential ingredient in any happy marriage... You can take it from me, the Queen has the quality of tolerance in abundance.
Queen Elizabeth and Prince Philip's quotes about marriage may not be overly gushy or give off that butterfly-filled new romance feeling, but they do reveal a lot about the kind of partnership they have together and how they value each other's input.
After 70 years of marriage, their bond is still strong, and that's pretty impressive.
Check out the "Best of Elite Daily" stream in the Bustle App for more stories just like this!