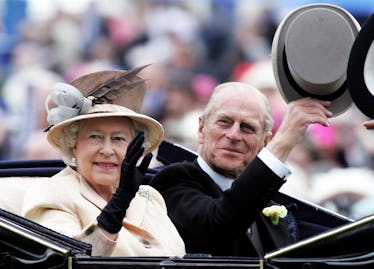 Everything Queen Elizabeth Has Ever Said About Her Long Marriage To Prince Philip
Chris Jackson/Getty Images Entertainment/Getty Images
It's been more than 70 years at this point — November 2018 will mark 71 years — but Queen Elizabeth's marriage to Prince Phillip is still going strong.
It all started in 1934, when the two met at the wedding of Prince Philip's cousin, Princess Marina of Greece and Denmark, and Queen Elizabeth's uncle, Prince George, Duke of Kent, according to Romper. At the time, Elizabeth was only eight years old, and Philip was 14. In 1939, they met again at the Royal Naval College in Dartmouth, became friends — though the Queen was already reportedly smitten by him— and began writing letters to one another.
According to E!, Prince Philip spent Christmas with the royal family in 1943, and the two were reunited again in 1945, after the war ended. The couple got engaged in 1946, though they held off on announcing the engagement until after the Queen's 21st birthday (April 21, 1947), ultimately sharing the news with the public on July 9. The two were married on Nov. 20, 1947, and had their first child together, Prince Charles, a year later, on Nov. 14, 1948, later having three more children.
Over the years (and decades, really!), Queen Elizabeth has shared several sweet quotes about her marriage to Prince Philip, and they're all sure to warm your heart.