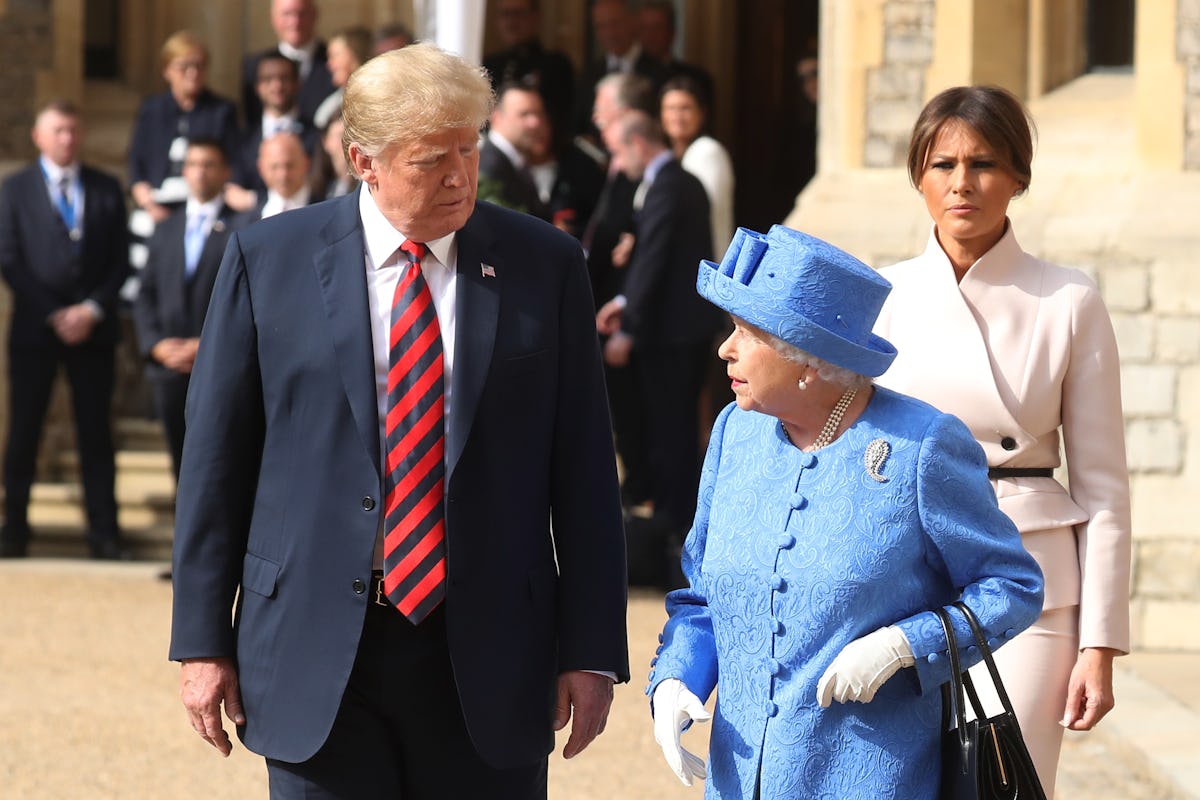 Queen Elizabeth & The Trumps Just Met & Their Body Language Was Unusual For This Reason
Chris Jackson/Getty Images News/Getty Images
President Donald Trump and his wife Melania have been busy shaking hands and making the rounds in Europe this week. On their second day in the U.K., the Trumps met Queen Elizabeth on Friday, July 13. There was plenty to discuss in regards to the the president's visit across the pond, but the body language between the Trump's and Queen Elizabeth alone was noteworthy.
The Trumps' meeting with the queen came as London was abuzz with protests of his visit. The president and first lady arrived on Thursday following their visit to Belgium for the NATO summit, where Trump left diplomats reeling after casting doubt on the future of the alliance.
Just ahead of Trump's meeting with the queen Friday, British tabloid The Sun published an interview with Trump, revealing a host of provocative comments about British officials, which he later backpedaled on during a Friday press conference. As for the queen however, he praised her in the interview.
In light of the hubbub, users on Twitter had cast all sorts of predictions for their meeting ahead of Friday. But when the moment finally came, the queen greeted the Trumps outside Windsor Castle with a warm smile and handshake (and thankfully, it didn't appear to be one of Trump's more forceful ones).
Elite Daily spoke with body language expert Patti Wood, who has studied and read Trump's body language for years, regarding his meeting with the queen on Friday.
Right off the bat, Wood had some observations about their handshake.
"He's allowing her to rule the handshake, and that's unusual for him," Wood says. "Tactically, he's used handshakes in the last couple years to show that he's the alpha ... In this case he's allowing her to set the rules for how they will shake hands. To me that's significant. For anyone else that wouldn't be unusual at all."
She notes that the position of Trump's hand inside the queen's indicates a feminine position, something that she wouldn't expect from him.
There was one awkward moment, though, when the pair strolled the green in front of the castle making their inspection. Trump appeared to not know exactly how to go about it.
As for the rest of the interaction, Wood noted he appeared to show deference for Her Majesty.
"He's not stepping ahead, he's respecting her position and perhaps respecting her age," she says. This in and of itself is noteworthy for Trump, who has usually made headlines for barreling past decorum and diplomatic protocols with wrenching handshakes and off-color comments when meeting world leaders.
"He's following the rules, and he's usually a rule breaker when it comes to space and touch," Wood says. "And the timing, with what he's just said, it's interesting."
Wood thinks this is intentional on the part of the president. "If he did the rule-breaking with her, it would cross over a line. Tactically, it would not work," she explains. "He knows the world's eyes are upon him. He know anytime he breaks rules, there's a tension upon him. In this case, he's choosing not to break rules."
Asked whether Trump's good behavior had might have had anything to do with the first lady being there, Wood says no. "Historically, [Melania]'s presence doesn't seem to moderate his behavior," she says.
As for the queen, Wood observes that "She's comfortable and smiling," and seemed like she was being herself.
But perhaps most notable of all, Wood says, is how Trump tends to use his own erratic behavior to keep everyone else guessing, world leaders and body language readers included.
"Typically there's a lack of predictability with his behavior that he uses strategically," she says. "The fact that we're speaking about the fact that he didn't break rules with her, that's the most interesting part."