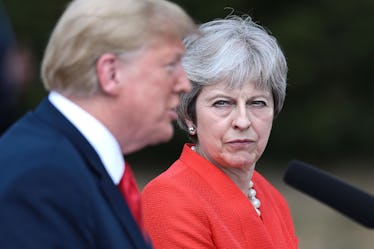 Trump Threw Shade On The UK's PM In An Interview & Immediately Had To Backpedal In Person With Her
Jack Taylor/Getty Images News/Getty Images
In an interview with a British tabloid paper published on Friday, June 13, President Donald Trump certainly didn't sugarcoat his feelings. Among a variety of topics, he tore in on the British prime minister, the mayor of London, the European Union, and immigration more broadly. And as the audio of Trump's interview with The Sun made the rounds on Friday, he backpedaled during a press conference with Prime Minister Theresa May.
The interview was published as Trump and his wife Melania were on the second day of a two-day tour of the UK, following an appearance in Belgium for the North Atlantic Treaty Organization (NATO) summit.
Speaking at a joint press conference Friday with May, Trump said:
I didn't criticize the prime minister. I have a lot of respect for the prime minister. Unfortunately there was a story that was generally fine but it didn't put in what I said about the prime minister, and I said tremendous things. Fortunately, we tend to record things now so we have it for your enjoyment. ... It's called fake news.
Presumably, the president was claiming that the paper included only the negative comments he made about May and omitted the "tremendous things." But in fact, that's not what happened. As Trump himself noted at the press conference, the conversation was taped. And not only was it recorded, it was also published for the world to hear.
As the published recording shows, Trump's remarks about May — which were, in fact, both positive and negative — came when he was discussing Brexit, the UK's 2016 vote to exit the European Union. Speaking on May's approach, Trump said:
I told her how to do it, she didn't listen to me ... I did give Theresa — who I like — my views on how she should negotiate. She went the opposite way. ... I think the deal she's striking is not what people voted on.
On Twitter, users went after Trump's about-face with the PM.
Trump apparently apologized to May on Friday about how the paper handled his interview (though he didn't apologize for the comments themselves) and she appeared to take his comments in stride, brushing off the incident by saying, "Don't worry, it's only the press."
When a reporter from CNN attempted to ask the president a question at the press conference, Trump responded, "CNN is fake news, I don't take questions from CNN." He instead called on a reporter from Fox News.
The backpedaling exchange drew harsh criticism from Twitter. Speaking in terms much harsher than what Khan used, MSNBC security analyst Matthew Miller called Trump a "coward."
And May wasn't the only target of Trump's freewheeling rant published by the British paper. Regarding immigration and in the influx of refugees into the EU, he said:
I think allowing the immigration to take place in Europe is a shame, I think it changed the fabric of Europe. ... It's never going to be what it was, and I don't mean that in a positive way. Allowing millions of people to come into Europe is a shame and you're losing your culture.
He also tore in on London Mayor Sadiq Khan, saying:
I think he's done a terrible job in London. ... I think he's done a bad job on terrorism. I think he's done a bad job on crime.
But the president reserved some praise for Queen Elizabeth, whom he's scheduled to meet on Friday, saying:
She is a tremendous woman. I really look forward to meeting her. ... She's just an incredible woman. She's got a great and beautiful grace about her.
Trump also showered positive remarks on and former Secretary of State Boris Johnson, who recently resigned:
I think he's a great representative for your country. I was surprised and saddened [by the resignation]. I think he'd be a great prime minister. I think he's got what it takes and I think he's got the right attitude.
Meanwhile, protests continue in London over the president's visit and are expected through the weekend. The demonstrations began with the Trumps' arrival on Thursday, and as of Friday afternoon local time, the giant Trump baby blimp had reportedly been inflated and was flying in all its glory above Parliament Square in the city center.
The protests did not go above Trump's notice, his remarks in the Sun interview suggest. Despite saying he used to "love London," he told the outlet he now doesn't feel welcome, and asked, "Why should I stay there?" Unpopular in London or not, he probably didn't make new friends with his interview in The Sun.