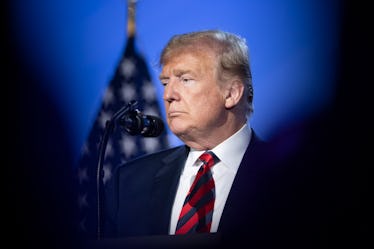 Donald Trump Shared His Opinion On Brexit & It Says A Lot About Him
Jasper Juinen/Getty Images News/Getty Images
Donald Trump is certainly a man of opinions, and rarely does he ever hold back. Things might be rough politically for the United States, but just a few years ago ago chaos erupted in Europe when it was announced in June 2016 that the United Kingdom would be leaving the European Union (EU), also known as "Brexit." This decision was a shock to nations across the world, but Trump's opinion on Brexit isn't shocking at all, and says a lot about him.
Trump may usually take his opinions straight to social media, but that doesn't mean he always stops there. On July 12, Prime Minister Theresa May held a dinner in Trump's honor, but apparently the conversation didn't involve breezy chats. In fact, some tension might have been stirred. That same day, Donald Trump sat down with British tabloid The Sun and shared his thoughts on Brexit. According to The Sun, Trump said that he spoke to Prime Minister Theresa May during the NATO summit about the U.K.'s departure, and claims he would have handled the negotiations involving Brexit much differently." However, Trump was quick to add that May "didn't listen to him."
Trump reportedly told The Sun,
I would have done it much differently. I actually told Theresa May how to do it, but she didn't listen to me. Instead she went the opposite way, and the results have been very unfortunate.
Well Trump, Brexit isn't the only shocking political decision made by world citizens in 2016.
Trump thinks of himself as a master negotiator, so it's not surprising he thinks he could have done a better job of handling the Brexit negotiations — despite the fact he's been busy blowing up the U.S.'s diplomatic relationships across Europe for the better part of two days. Delicacy is not this president's forte. In fact, his commenting on it at all is facepalm worthy, considering it's a matter of huge delicacy in the U.K. and Trump's comments are likely to embarrass and have political repercussions for his host, May.
But it's not the first time he's weighed in. The BBC reported in June 2016 that 52 percent of U.K. residents voted to leave the EU while 48 percent voted to stay. Following the result, Donald Trump took to Twitter on June 24, 2016 to announce his support for the Brexit decision. However, in his tweet, he made a bit of a faux-pas while subtly mentioning his support.
He wrote,
Just arrived in Scotland. Place is going wild over the vote. They took their country back, just like we will take America back. No games!
Despite praising the Brexit decision, Trump failed to realize that most of Scotland actually voted to stay within the European Union. Awkward.
Clearly Trump has thoughts on the subject. Just take August 2016, when Donald Trump apparently was feeling a bit spontaneous when he tweeted a very strange and unprompted statement about Brexit.
There's that. Zero context. No explanation. Nothing. I don't think I was the only one who was completely thrown off by this random tweet. Trump may share his opinions on Twitter whenever he chooses, but that tweet was unlike the others. Of course, this tweet actually eventually made sense when Donald Trump won the 2016 presidential election, a result equally as unexpected. 2016 was a year full of surprises, y'all.
As Brexit represents the United Kingdom separating from the European Union, Trump's presidency represented a huge divide and separation between the American people, and the year and change since Trump's election has been rife with discord in the United States. In fact, following Trump's campaign win, California threatened to secede from the United States and Twitter coined the movement as #Calexit. To be honest, it's not that surprising that the Golden State would want to say sayonara to the United States. After all, Hillary Clinton won the California vote by a landslide. According to The New York Times, 61.5 percent of Californian voters voted in favor of Hillary while only 33.3 percent voted for Trump.
Whatever his opinions on Brexit are, I hope Trump understands that nations seceding isn't like a bad breakup. Flowers and chocolates won't win them back, buddy.