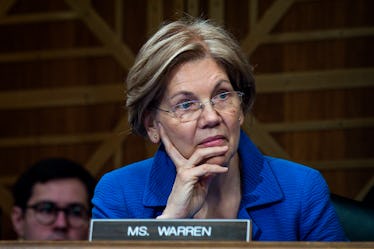 Elizabeth Warren Went After Donald Trump's Comments On NATO & She Didn't Hold Back
Pete Marovich/Getty Images News/Getty Images
Another day, another political figure putting Donald Trump on blast. Wednesday, July 11, marked the first day of the weeklong North Atlantic Treaty Organization (NATO) summit. Even though this annual gathering is meant to bring world leaders closer, the United States' leader has openly criticized the summit's members who are supposedly our allies. Well, Elizabeth Warren's comment about Donald Trump and NATO prove this Senator isn't having any of it.
On July 11, Warren took to Twitter to share her thoughts on Trump's recent jabs at NATO and the summit's members. In her tweet, she not only addresses how important it is that the United States has allies, but she insinuates that Trump's continuous belittling of the organization is a "gift to Putin." Oh, well, yikes.
She wrote,
America is strongest when we work together with our allies – including the 28 NATO members who share our democratic values. Undermining NATO is a gift to Putin that @realDonaldTrump seems all too happy to give.
Word Warren. There's definitely some subtle shade being thrown from the Massachusetts Sen., but there's also some very valid points being made as well. After all, this isn't kindergarten where you can call someone a mean name and then make up by nap time. We're talking about the future safety of the free world here. It's kind of a big deal, Trump.
Warren's tweet is in response to Donald Trump's July 11 comments where he questioned the importance of NATO, and claimed only a few countries are pulling their fair share in the alliance. During a working breakfast on July 11, he suddenly said that "Germany is a captive of Russia," and put the U.S. ally on blast for supposedly paying "billions of dollars to Russia" for energy sources. He also accused the other nations in the alliance of not pulling their weight financially, calling on them to double their financial contributions.
The tension between Trump and NATO has been on the rocks for some time, but they're nothing compared to the organization's relationship with Putin. In 2014, NATO ceased their alliance with Russia and has relentlessly criticized the nation's "aggressive" military tactics over the years. Even though Trump has openly expressed his dislike for the organization, on July 10 the Senate voted unanimously to support NATO leading up to the summit. So, at least we have that going for us.
Trump's criticism could play into Putin's hands — by throwing jabs at these world leaders and creating serious discord and bad relationships, the weakened alliances could be an opportunity for outside elements like Putin's Russia to push its own agendas within Europe. Safe to say, that's probably not the greatest idea.
During the NATO summit, Trump rubbed elbows with notable political figures including German Chancellor Angela Merkel, French President Emmanuel Macron, and others. The United States president already has a less than stellar track record with Merkel and Macron, and it looks like tension are being raised even higher during this annual gathering. Just to give you some perspective, on the very first day affair Trump demanded that NATO allies increase their GDP spending on defense from two to four percent with hopes of meeting a ten year goal. Then, as an attempt to justify his demand, he claimed that other nations should reimburse the United States for its contribution as an ally. Um, I don't think it works like that.
"You know, we're protecting Germany, we're protecting France," Trump said at the summit. "We're protecting everybody. And yet we're paying a lot of money to protect."
It's honestly painful watching this whole ordeal unfold. Trump certainly isn't the most mature when it comes to handling world summits, and his supposed interaction with Chancellor Angela Merkel at Group of Seven (G7) summit in Canada proves it. Foreign policy expert and president of political consulting firm Eurasia Group shared to CBS This Morning on June 21 that during the summit Trump reportedly threw a Starburst candy at Merkel just before agreeing to sign a joint statement on behalf of all seven nations at the request of Merkel and Canadian Prime Minister Justin Trudeau.
Well, we're one day into the NATO summit and no Starbursts have been brought out yet. I'm humiliated to admit that might be Trump's version of personal growth.
Not a day goes by that living in Trump's America doesn't feel more and more like a reality television show. Let's hope Elizabeth Warren becomes a reoccurring character.