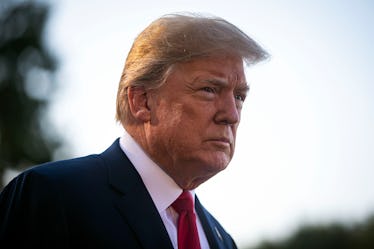 Donald Trump Attended The NATO Summit & This Photo Says It All
Al Drago/Getty Images News/Getty Images
You know what they say, when they go low you go high. So, when they look to the left for a photo op, you look...to the right? Well, this photo of Donald Trump at the NATO Summit is proof that the United States' world leader is unlike any other political figure. Cue face palm here.
On Wednesday, July 11, Donald Trump met with fellow world leaders in Brussels, Belgium for the annual North Atlantic Treaty Organization (NATO) Summit. This marks the first day of the two-day conference, and during those two days Trump will rub elbows with the likes of German Chancellor Angela Merkel, NATO Secretary General Jens Stoltenberg, French President Emmanuel Macron, and others. Naturally, when figures of this caliber gather together, it demands a photo opportunity. On July 11, Trump posed with his fellow world leaders to celebrate the beginning of the NATO Summit. However, one photo that appears to be of the worlds leaders observing a demonstration of helicopters from various NATO nations is... kind of a little too on the nose. While the other NATO summit attendees are looking to their left, Trump decided to not only face right, but it's impossible to look past the extremely uncomfortable look on his face. Honestly, it's almost like he's thinking, "why am I here?" I'm thinking the exact same thing, buddy.
It's extra ironic because of the way Trump has actively gone after NATO members, who are supposed to be America's allies, which in turn has led to many of the other leaders taking jabs at Trump. People say a picture is worth a 1,000 words, and this image definitely proves it.
The annual NATO summit not only gathers world leaders and NATO officials from all over the globe, but it also serves as an opportunity for these figures to work out strategies for future alliance activities. It's no secret that Donald Trump is quite the controversial figure, and throughout his presidency, he hasn't exactly established the best repertoire with his fellow political leaders. Among them is Chancellor Angela Merkel, who not only was victim to Trump's infamous awkward handshake during a White House meeting in March 2017, but rumor has it Donald Trump reportedly threw Starburst candy at her during the June Group of Seven (G7) summit in Canada. Apparently the "G" in G7 stands for "grade school".
Foreign policy expert and president of political consulting firm Eurasia Group, Iam Bremmer, detailed the occurrence to CBS This Morning on June 21, and boy is it a doozy. He said,
Trump was sitting there with his arms crossed, clearly not liking the fact that he felt like they were ganging up on him. He eventually agreed. He said 'ok' he'll sign it. At that point he stood up. He put his hand in his pocket, his suit jacket pocket, and he took two Starburst candies out, threw them on the table, and said to Merkel, 'here Angela, don't say I never give you anything.'
Elite Daily reached out to the White House for its view on Bremmer's version of events at the time, but did not hear back.
But wait, there's more. Merkel isn't the only NATO attendee that's had quite an awkward run-in with Trump in the past. French President Emmanuel Macron visited Trump in Washington, D.C. for a three day tour in April. At first, it seemed that the two had ignited a sort of bromance, but on April 25 Macron addressed Congress and ultimately blasted all of Trump's ideals. Awkward.
"We have two possible ways ahead," Macron told Congress. "We can choose isolationism, withdrawal, and nationalism. This is an option. It can be tempting to us as a temporary remedy to all fears. But closing the door to the world will not stop the evolution of the world. We have to keep our eyes wide open to the new risks right in front of us."
Although Macron might not have mentioned Trump's name directly to Congress, it's can be assumed that his "closing the door to the world" remark is a reference to Trump's infamous border wall fixation, his departure from the climate Paris Agreement, and other political faux-pas.
I don't know about y'all, but this NATO Summit feels eerily similar to high school. Time will only tell if Trump will be able to sit at cool kids lunch table. I guess he'll have it find it first.
Editor's note: This article has been updated to reflect that it is a two-day summit.