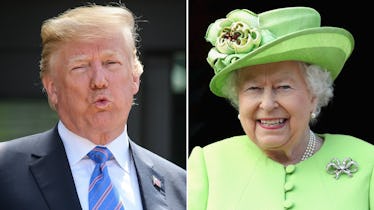 Donald & Melania Trump Met Queen Elizabeth & You Have To See How It Went Down
Leon Neal/Getty Images News/Getty Images/Chris Jackson/Getty Images Entertainment/Getty Images
In the past, I didn't really think much about presidents meeting with other foreign leaders — it's all part of the job after all. With President Donald Trump holding the reins in the White House, however, I've been paying a little more attention — and so has everyone else. It's no surprise then that everyone was eagerly awaiting Trump's meeting with the queen on Friday July 13, and let me tell you the video of Queen Elizabeth meeting the Trumps is very interesting.
On Friday, July 13, the president and first lady met Queen Elizabeth at Windsor Castle — aka the sacred ground where Prince Harry and Meghan Markle tied the knot just months earlier on May 19. As you can see in the video of the meeting below, there were lots of smiles from the queen as she greeted the president and first lady.
The queen, known for her flair for colorful outfits, appeared in a classic blue jacket with a matching hat. She, characteristically, carried her purse. Melania Trump went for a pale pink suit, while Donald Trump went with his typical suit with a red-and-blue striped tie. The queen helped the couple walk up to the dais to join her, and they shook hands cordially.
The meeting was part of a long tradition. Prior to Trump and Melania's trip to the United Kingdom, U.S. Ambassador Robert 'Woody' Johnson said, during a press call to the White House on July 6, that the queen has met with every U.S. president since she took the throne — except Lyndon B. Johnson — and Trump would be no different. Ambassador Johnson added that Trump and Melania were "really looking forward" to it, according to USA Today. He said,
A highlight of any president's visit to the U.K. [is when] the President and First Lady will travel to Windsor Castle to meet Her Majesty the Queen. As head of state, Her Majesty has met every U.S. president since 1952 – with only one exception and that's Lyndon B. Johnson. I know the president and first lady are really looking forward to meeting her.
The first couple, who arrived in the U.K. on Thursday, July 12, might have been excited for their first visit there and to meet her Royal Highness, but I can't say that the feeling was totally mutual. In preparation for Trump's arrival on U.K. soil, London Mayor Sadiq Khan — who has been a target of some vitriolic Trump tweets — approved a giant angry "Trump Baby" balloon, according to CBS News. And, yes, I said "Trump Baby" balloon. It's a balloon of Trump imagined as a giant egg-shaped baby, orange (of course), in a diaper, but with chest hair, and a cellphone handy — cuz baby's gotta tweet. The balloon flew over London as part of the ongoing protests during Trump's stay in U.K.
Look, angry "Trump Baby" balloon even has its own Twitter account:
As you can see by the timestamp on that tweet, news of the balloon surfaced way before Trump's trip. Mind you, Trump was invited for an official U.K. state visit right after his inauguration — a visit he never made due to threats of protest over the visit, according to People. Although he's finally heading to the U.K. it's only for a less formal "working visit." Because Trump missed his state visit throughout 2017 because of "protest fears," there was speculation that news of planned protest and a "Trump Baby" balloon, might cause the first couple to cancel. Johnson, however, assured the press during his comments on July 6 that everyone on the Trump's team knew about what was going on, and the president "appreciates free speech" in the U.S. and abroad. Johnson said,
Yes we are all aware of these things. The president is keenly focused on what his objectives are. He appreciates free speech both in this country and in our country – it's one of the things that binds them together, the freedoms that we share. But I know he is very focused on the special relationship and making sure that that's improved and our prosperity and security are enhanced on this trip.
The "special relationship" looks, in this instance, like they're keeping things civil. I guess even Trump knows better than to mess with the queen.