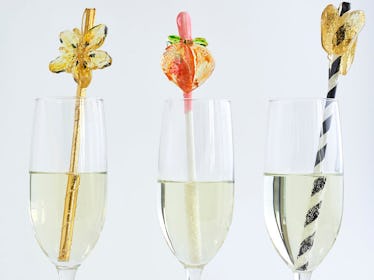 These Prosecco Candy Straws With Edible Gold Will Totally Up Your Instagram Game
If you're struggling to get through the mid-week hump, I've got some news that's guaranteed to make your day a little bit more bubbly. Prosecco-infused candy straws now exist, courtesy of Ruffino Wines and Sweet Saba candy couture, and they're the perfect addition to your National Prosecco Day festivities. Raise a glass, because these hand-painted straws are guaranteed to take your 'Gram game to the next level.
ICYMI, National Prosecco Day is coming up so soon (Monday, Aug. 13, to be exact), which means you really should be making plans for a bubble-soaked night in with your besties ASAP. If you're looking for a way to wow your guests or bring the ultimate hostess gift, Sweet Saba x Ruffino Wines' limited-edition Prosecco-infused straws are here to make your sips even sweeter. Artist Maayan Zilberman is responsible for the totally photogenic creations, which are made out of paper and individually hand-painted for a customized, effortlessly luxe look.
If you need further proof that your 'Gram is going to be totally transformed by these next-level sip accessories, each straw is decked out with a large edible candy at the tip, and each one is meant to evoke a peach, an elderflower, or a Prosecco party. These are almost too pretty to eat. Almost. In addition, the goodies are infused with Prosecco and topped off with edible gold embellishments, just in case you weren't feeling luxurious enough already springing $45 a pop for a 3-pack of straws.
I'm still scratching my head over how you're supposed to pick just one one these beauties, but I'm assuming that any option is perfect for cleansing your palate between sips of your sparkling wine of choice. Plus, there's good news if you're worried about that Tuesday morning hangover hitting you hard. These candies will give you all the delicious of Prosecco without any of the alcohol, so you can imbibe them to your heart's desire.
If you're looking for the ultimate cheese pairing, I'd check out The Great British Cheese company's Wensleydale With Raspberry & Prosecco cheese. When the two-toned rose pink delicacy debuted on grocery story shelves last November, it made every millennial's dreams come true with the pretty color pairing and delicious flavor.
Considering that the truckle was described as "a creamy but sweet raspberry flavoured cheese, with the Prosecco acidity cutting through your palette as you taste the cheese," it's no surprise that it has garnered rave reviews on The Great British Cheese Company's website. One reviewer called the treat "Cheese made in heaven," and said, "If I could only eat one type of cheese for the rest of my life, this would be the one." Something tells me it would make the perfect pairing for your Prosecco straws.
While the limited-edition Sweet Saba x Ruffino Wines are available to order right now, there's one big caveat. Unfortunately, hand-painted straws take time to make, and the website says that the finished product won't be shipping out until the first week of September. That means that they won't be making it to your National Prosecco Day fete, which is kind of a bummer, to be honest. On the bright side, however, what better excuse to keep the festivities going and the bubbly flowing until September? I'll toast to that.