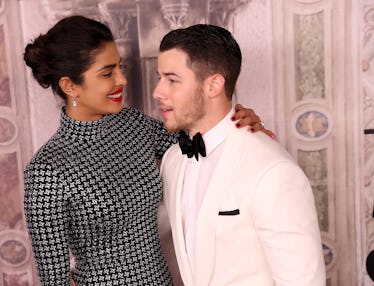 Priyanka Chopra's Reaction To Nick Jonas Playing Soccer In Mumbai Is The Cutest Ever
Rob Kim/Getty Images Entertainment/Getty Images
Nick Jonas and Priyanka Chopra are having the best time as fiancés, celebrities, and just plain humans in general. Every time I turn around they're having some sort of swoon-worthy, jealousy-inducing, so-sweet-it-kinda-makes-me-sick moment. The latest is a soccer game in Mumbai. Priyanka Chopra's photos of Nick Jonas playing soccer are pretty good, but her caption is what has fans commenting with heart emojis. Her pictures show Jonas looking sweaty and fit and she captioned the series, "Bae in Bombae!! 😍#friends #mumbai #football @nickjonas."
Lol, #friends.
Jonas rocked a bright orange uniform with the words "Playing for humanity" emblazoned across the front and back. In the first photo, he's front and center in a group shot, proudly displaying a bruised-up knee. Chopra also shared a slow-motion video of Jonas just, like, walking, along with pictures of him on the field in a hilarious makeshift headband and the two of them hanging out on the sidelines. The final image shows Chopra, Jonas, a young boy and another woman standing on the field in matching "Art of Time" uniform t-shirts.
To be honest, the pics look a lot like what your average soccer mom might share of her kid. They're just missing some Capri Sun and orange slices.
Something tells me vacationing in India is going to be Chopra and Jonas' "thing." In August 2018, the lovebirds headed to Mumbai with Jonas' parents for their engagement announcement and to participate in a traditional Indian ceremony called a roka. A roka marks the union of the bride and groom's families and is a chance for the fiancé's parents to meet each other. According to Chopra's mother, Madhu, everyone did great.
At the time, Madhu told DNA India, "I told [Priyanka] that I want to meet Nick's family. It was a new thing for him and he took it seriously. He followed what our panditji [Hindu scholar or priest] said, and chanted the Sanskrit mantras accurately. Both he and his parents did it beautifully. They are nice people."
Madhu also admitted she wants her daughter to have a traditional Indian wedding. "My daughter knew I wanted a roka before the marriage, so she never said 'no'. I haven't forced any of my thoughts on her, but I definitely want a traditional Indian wedding," she said. "That's my only wish."
So, is it possible Chopra and Jonas were back in India to make wedding plans? I mean, maybe. At the end of September 2018, a source told US Weekly the wedding is on its way. "The wedding is coming soon," the insider claimed. "Priyanka is having a really good time planning the wedding because it's a mix of Indian and American styles and customs, which she knows so much about."
According to a second source, Jonas is all for it. The source says he is "super supportive" and "thrilled."
All together now — Aww!
Luckily, fans can enjoy Chopra and Jonas relationship on Instagram while they wait for more wedding details. Hey Nick and Priyanka, I'd love to get in on these #friends pics, too!