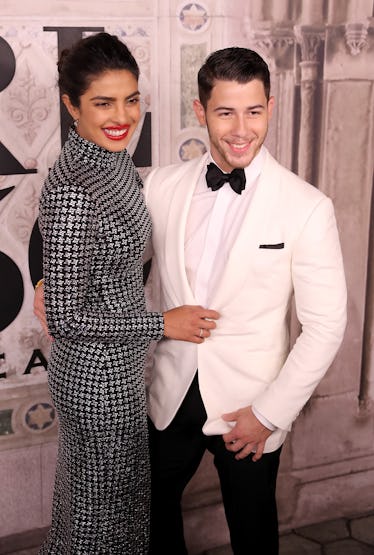 Priyanka Chopra Posted The Cutest Birthday Tribute To Nick Jonas That You Have To See
Rob Kim/Getty Images Entertainment/Getty Images
Nick Jonas and Priyanka Chopra are officially 10 years apart in age instead of 11. The singer celebrated his 26th birthday on Sunday, Sept. 16, at a football game with family and friends, and Priyanka Chopra's birthday post to Nick Jonas from the game was so sweet. She posted a photo of her giving her fiancé a kiss on the cheek and captioned it, "Happy birthday baby." They look as in love as ever in the shot.
They spent Jonas' birthday at the Cowboys game in Dallas. Joe Jonas was there sans Sophie Turner, but that's OK. They have a lifetime of double dates to go on now. Chopra posted a photo of the whole group who was there to celebrate on her Instagram as well, and I'm only a little upset that I wasn't invited, but it's OK! I'm sure I'll get a wedding invite! Right? Right?!
Joe Jonas' birthday post to Nick Jonas was also sweet as hell. He posted a photo of Nick with his birthday cake that was a giant beer can labeled "Nick Light" and said, "Hey man, Joe here. Love your friendship & brotherhood. You kick ass. Thanks for being a fan. Love you. #happybirthday #coorslight #notsponsored #wejustllovecoorslight." I never knew someone could love Coors Light this much, but OK!
Chopra's birthday post to Jonas was so cute, but Nick... that mustache has got. Tah. Go.
I'm serious, Nick.
PLZ SHAVE.
It doesn't look like Sophie Turner and Kevin Jonas could make it to Dallas for the celebration, but Danielle Jonas (Kevin's wife) posted the sweetest videos of their daughters singing "Happy Birthday" to their Uncle Nick to her Instagram story. Nick posted the video to his Instagram because his heart was exploding.
My heart is also exploding.
Jonas said, "This is the sweetest thing ever. Video courtesy of my fellow Virgo sister in law @daniellejonas my beautiful nieces singing me happy birthday."
The last two months have been filled with a lot of celebrating in the Jonas family. After a few months of dating, Nick Jonas proposed to Priyanka Chopra in July (reportedly on her birthday, July 18th), and a month later they traveled to India with Jonas' parents so their families could meet and they could throw their engagement party.
Chopra's caption read, "Taken.. With all my heart and soul," and Jonas' said, "Future Mrs. Jonas. My heart. My love." Sophie Turner, Joe Jonas, and Danielle Jonas also posted the same photo congratulating the soon-to-be newlyweds.
Turner said, "Wow. First I'm blessed with an incredible future brother-in-law, and now such an beautiful, inside and out, future sister-in-law. I'm so excited to welcome you into the family @priyankachopra . I love you both @nickjonas."
Joe said, "I couldn't be happier for my brother. Welcome to the family @priyankachopra We love you."
Danielle said, "Congratulations! @nickjonasand @priyankachopra Wishing you a life time of love and happiness."
I guess the only thing these people love more than each other is... Coors Light.