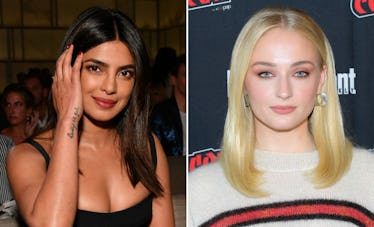 Priyanka Chopra's Morning-After Photo With Sophie Turner After Her Bachelorette Is Flawless
Dia Dipasupil/Getty Images; Roy Rochlin/Getty Images
I really, really want to be Priyanka Chopra when I grow up. In case you haven't heard, the Quantico star — who's engaged to JoBro Nick Jonas — is currently living her best life overseas in Amsterdam, where she escaped for a bachelorette weekend with her closest friends, including soon-to-be sister-in-law Sophie Turner. Not only is this gorgeous girl gang having a time, but they're sharing so much bachelorette content on Instagram and it's all straight fire. There's been dancing, tequila shots, and partying on a boat. I mean, cue the freaking hangovers, am I right? But Priyanka Chopra and Sophie Turner's morning-after photo proves they're flawless at all times, and like what the actual F, why does life have to be so unfair?
Do you have any idea what I would have looked like after taking tequila shots and partying on a boat all weekend? Not like Chopra and Turner, who are just casually lounging on a blue velvet couch looking the exact opposite of casual. For one thing, they've got sexy scowls on their faces and matching green "hungover" face masks propped up on their perfectly groomed heads. They're also wearing actual clothes instead of like, sweats or pajamas, and they each have on a pair of gorgeous pointy-toed boots, which is totally against the rules of hangovers. Not only that, but they're each clutching a cute pink flask, and I'm pretty sure those things don't have Pedialyte or Blowfish tablets dissolved in water housed inside.
Check it out:
I mean, what kind of dark magic is this? Ladies, please share your secret!
But let's rewind for a sec and see how we got here. The weekend started off with Turner's post of Chopra decked out in a black "bride-to-be" sash, black sunglasses, and a tiara accented with a black veil.
Did you catch that hashtag? It says "#TheJSisters," a reference to the fact that Chopra and Turner — who's engaged to Joe Jonas — will each say "I do" to a Jonas Brother, and OMG nothing has ever been cuter.
Except for maybe Chopra and Turner dancing together:
Can someone please find me another Jonas Brother to marry ASAP so I can be part of the #JSister squad? I mean, whatever happened to that Bonus Jonas kid? Is he still around?
Anyway, look how stunning Chopra was for a boat ride on Amsterdam's canals. This is totally what I would wear for a boat ride. Except not. And please note that she's wearing those amazing snakeskin boots again, in all of their pointy-toed glory.
If you think the boat look was glam, check out the white Georges Chakra mini dress that Chopra changed into later for a night out on the town:
It's so hot, right? And just perfect for downing the tequila shots that Chopra is apparently so fond of.
Who knew?
Meanwhile, the dress also had a coordinating feathered cape. Wanna see the bachelorette twirl in it? That was a rhetorical question, so here you go:
So bomb. Can't wait to see what she wears for the wedding!