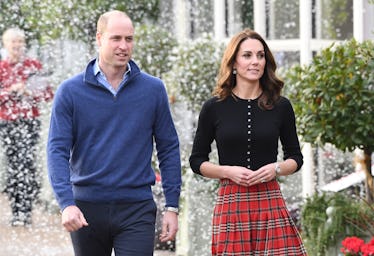 Prince William & Kate Middleton's Body Language At The Military Family Christmas Party Is Strong
Stuart C. Wilson/Getty Images Entertainment/Getty Images
It's no secret that the Duke and Duchess of Cambridge are total relationship goals, and that their adorable family of five could bring a smile to anyone's face. And because their full-time jobs consist of supporting several charitable causes year-round, Prince William and Kate Middleton's body language at the military family Christmas party proves these two are seasoned pros at their duties, and that they're more in-sync than ever. What's sweeter than being good at doing good? Honestly, I'm not sure, but the love this couple has for each other is very much top-of-list.
On Tuesday, Dec. 4, Prince William and Kate Middleton hosted the families and children of the service men and women currently deployed in the Royal Air Force Coningsby and RAF Marham in Cyprus for the holiday season. According to The Evening Standard, "Kensington Palace said the duke and duchess wished to deliver a message of support and honour the fact many are away from their families at this time of the year." It can't be easy to be away from loved ones during the holidays, but it's great to see Will and Kate making the military a priority and making sure their families feel recognized.
As for the Duke and Duchess, their body language might seem distant, but it really speaks volumes to their strong connection. It's no secret that Middleton and Prince William keep things modest and professional while out and about, and rarely show any form of public affection. Myka Meier, royal etiquette expert and founder of Beaumont Etiquette, previously told People that although there is no official rule that states they aren't allowed to show PDA, technically, while traveling, "the couple are working representatives of the British monarchy." This just means that Will and Kate are just trying to keep it professional, not that they aren't happy or in love — which explains the distance between them and the lack of hand-holding in the pictures below. In fact, on the contrary, experts say this couple is rock-solid, and that they look very happy together.