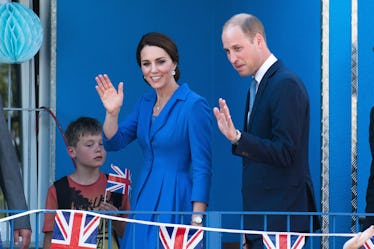 10 Sweet Photos Of Prince William & Kate Middleton At Charity Events That'll Make Your Day
Matthias Nareyek/Getty Images Entertainment/Getty Images
Being a member of the Royal Family might seem like fun, and surely, it has to be! But it also comes with some serious responsibility, too. These photos of Prince William and Kate Middleton at charity events show how dedicated they are to raising awareness and funding for important causes, and trust me, they'll definitely warm your heart. According to the official website for the British Royal Family, its members patron an estimated 3,000 charities worldwide. The Guardian reported that research gathered by the Charities Aid Foundation (CAF) shows the Queen of England is actually one of the world's most impactful supporter of charities, and in 2012 she helped raise more than 1.9 billion dollars.
But what exactly does the Royal Family's philanthropic work entail? According to their official website, "Members of the Royal Family have links with hundreds of charities, military associations, professional bodies and public service organisations." Furthermore, "Having a royal patron or president provides vital publicity for the work of these organisations, and allows their enormous achievements and contributions to society to be recognised."
It only makes sense that the younger generations of Royal Family members continue to follow the Queen's example by playing an active role in various organizations. In fact, according to their website, the Royal Family gets hundreds of requests from organizations requesting their support each year, and they have to limit the number of organizations they support to a "manageable number to ensure that they can give each organisation a significant amount of their time." Earlier this year at the Charity Commission Annual Public Meeting in London, the Duke of Cambridge spoke about why being involved in charity work is so important to him.
"I remember being taken by my mother to a homelessness shelter at a young age, her explaining to me why the people I met there matter; why no society can be healthy unless we take other people seriously," he said. "Some of my earliest memories relate to times that my parents spoke to me or — even better — showed me what it meant to have both privilege and responsibilities."
Kate also made it clear that before she met the Prince, getting involved in charity work was always important to her. And while their exact roles for each charity shift depending on the specific project, Will and Kate have proven to be quite the dynamic duo. Here are 10 of their most notable charity appearances as a couple.