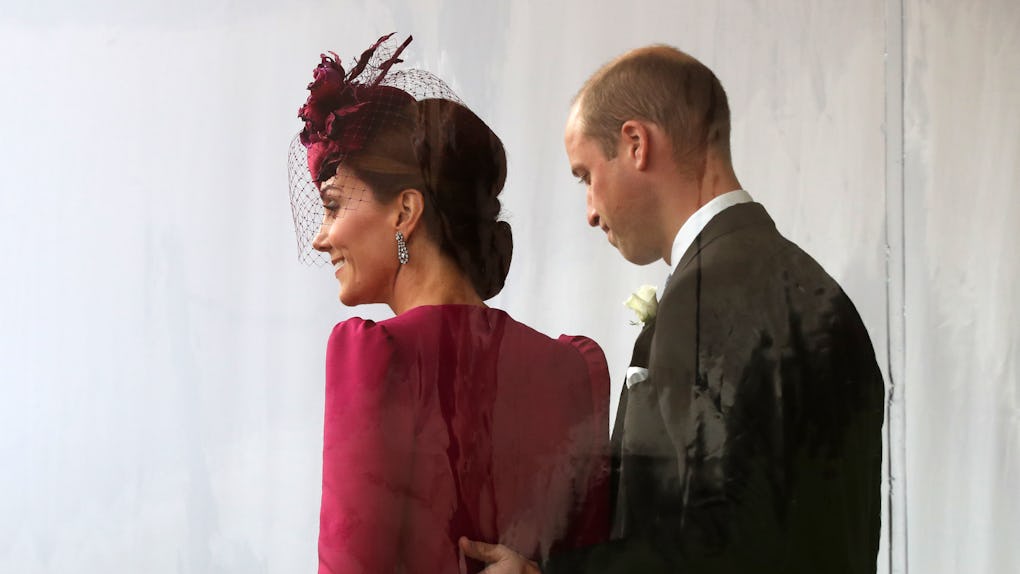 WPA Pool/Getty Images Entertainment/Getty Images
10 Photos Of Prince William & Kate Middleton Showing PDA To Restore Your Faith In Love
The Duke and Duchess of Cambridge are a gorgeous couple — no news here. They met in 2001, while in college at University of St Andrews in Scotland, and began dating the following year. Except for a brief breakup in 2007, they've been together ever since. When you're as in love as these two seem, it can't be easy to refrain from showing too much PDA. We rarely get to see them touch affectionately, but that just makes these photos of Prince William and Kate Middleton showing PDA all the more special. Their PDA is rare, but when they do show it, it's incredibly sweet.
According to People, there's no hard and fast rule about not showing PDA, but rather, it's more so about professionalism on the job. "There's no actual etiquette or royal protocol that says the couple must refrain from PDA," Myka Meier, a royal etiquette expert and founder and director of Beaumont Etiquette, told People. "The likely reasoning is more that while traveling on a tour such as the India trip, technically the couple are working representatives of the British monarchy. The couple are likely to show very little PDA, if any, to remain professional during their designated roles abroad."
However, there are those rare occasions when the couple can't help themselves while at an event, or perhaps simply just forget that they're on the job, and they let their hands touch or shoulders graze. It's seriously sweet, and the fact that it's rare only makes it sweeter. Below, some of the cutest Will and Kate PDA moments that will warm your heart right up. Seriously, I cannot deal.
1. Their 2011 wedding, obvi.
The newlyweds participated in the balcony kiss tradition with true grace, indulging onlookers across the world with a sweet peck on the lips.
2. This easy, breezy embrace.
Back in 2011, the two shared a quick embrace after Will's team won a round robin tournament at a charity event in Santa Barbara, California. Easy and breezy, just like these two seem.
3. Who could forget this classic embrace?
This is probably Will and Kate's most outward public display of affection, and it's for good reason. The two were celebrating after Great Britain won the gold medal for Men's Team Sprint Track Cycling during the 2012 Olympic Games in London.
4. Some lowkey handholding
Here we see them subtly holding hands during the 20th Commonwealth games in July 2014, in Scotland. We rarely get to see Kate putting her hand on Will's leg, so this was exciting.
5. When they hold hands, they obviously look fabulous.
Not only do both Prince William and Middleton look flawless in this photo, but they look totally in-sync.
6. They really are fabulous and flirty.
Again, the hand-holding is simple and not over-the-top sexy, but it shows that these two really care for each other, and despite everything else going on around them, their main focus is on each other.
7. When Prince William bundled up with his wife on a cold day.
This photo is just all kinds of winter relationship goals. Middleton is bundled up in a posh winter coat, complete with gloves and a hat, and her hubby is holding her close to him. What more could you want?
8. They held hands after Middleton gave birth to their Prince Louis.
While leaving the hospital after Middleton gave birth to the couple's third precious baby, Prince Louis, Will reached for Kate's hand as they walked down the hospital stairs. It was seriously lovely, and showed how supportive this couple is of each other.
9. They got really touchy at Princess Eugenie's wedding.
Back in October, Princess Eugenie married her long-time bae Jack Brooksbank. It was a lovely day, Princess Eugenie looked fabulous, and Will and Kate were totally feeling all the love vibes.
Before entering the church, the two were walking side-by-side, and Prince William sweetly put his hand on Middleton's back. It was intimate, caring, and proper all at the same time, as only the royals can pull off.
10. Middleton was *really* feeling that wedding.
It didn't end there, as Middleton returned the gesture to her husband with another thigh graze while waiting for the ceremony to start. Again, this rarely happens. In fact, body language expert Blanca Cobb even told Elite Daily that this gesture says so much. "Even though they're not looking at each other, their body language is saying 'Honey I'm thinking of you'," she said.
Le sigh. It can't be easy to know that you're constantly being watched and having to always act certain way in front of the cameras, but these two make it look easy. And with their little PDA slips, Middleton and Prince William prove that after all this time, they're more in-sync than ever and still feeling the love.