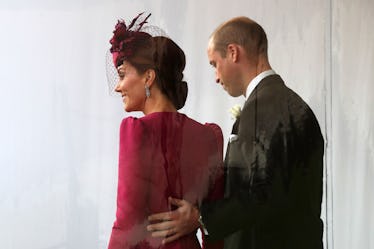 10 Photos Of Prince William & Kate Middleton Showing PDA That Will Make Your Day
WPA Pool/Getty Images Entertainment/Getty Images
The Duke and Duchess of Cambridge are a gorgeous couple — no news here. They met in 2001, while in college at University of St Andrews in Scotland, and began dating the following year. Except for a brief breakup in 2007, they've been together ever since. When you're as in love as these two seem, it can't be easy to refrain from showing too much PDA. We rarely get to see them touch affectionately, but that just makes these photos of Prince William and Kate Middleton showing PDA all the more special. Their PDA is rare, but when they do show it, it's incredibly sweet.
According to People, there's no hard and fast rule about not showing PDA, but rather, it's more so about professionalism on the job. "There's no actual etiquette or royal protocol that says the couple must refrain from PDA," Myka Meier, a royal etiquette expert and founder and director of Beaumont Etiquette, told People. "The likely reasoning is more that while traveling on a tour such as the India trip, technically the couple are working representatives of the British monarchy. The couple are likely to show very little PDA, if any, to remain professional during their designated roles abroad."
However, there are those rare occasions when the couple can't help themselves while at an event, or perhaps simply just forget that they're on the job, and they let their hands touch or shoulders graze. It's seriously sweet, and the fact that it's rare only makes it sweeter. Below, some of the cutest Will and Kate PDA moments that will warm your heart right up. Seriously, I cannot deal.