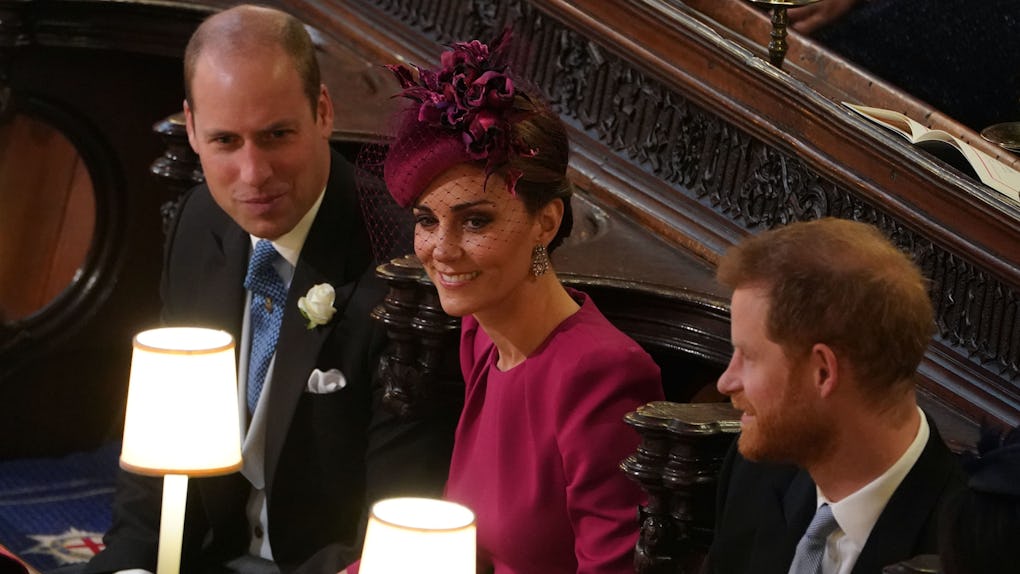 WPA Pool/Getty Images Entertainment/Getty Images
Prince William & Kate Middleton's Body Language At Princess Eugenie's Wedding Was Rare
While Meghan Markle, Duchess of Sussex certainly captured the world's attention with her dedication to philanthropy and her adorable relationship with hubby Prince Harry, Duke of Sussex, there was another royal bride that stole our hearts years ago. Catherine, Duchess of Cambridge and Prince William, Duke of Cambridge (i.e: Will and Kate) are still totally killing it seven years after their wedding, and it seems like they've been crushing it at life lately. Their appearance at today's royal wedding was no exception. Prince William and Kate Middleton's body language at Princess Eugenie's wedding shows how well their love has lasted over the years. Seriously, these two are ultimate couple goals. But let's back up a little.
Throughout the royal wedding, all eyes were on the royal family as they made their way into St. George's Chapel. OK, OK... obviously all eyes were anxiously awaiting the arrival of Princess Eugenie, but you get my point. I just love them all so much! Eugenie absolutely stunned, as she should on her special day. But I couldn't help but observe the dynamic between Will and Kate. They're an elegantly classic royal couple, and their highly-anticipated appearance at Eugenie's wedding Friday morning was exactly what I was hoping for. They looked fab.
So, what can we tell about their long relationship by their body language at this morning's nuptials? According to body language expert Blanca Cobb, they're still going strong.
1. When they arrived, they were totally in sync.
When Will and Kate arrived at Eugenie's wedding, they looked happy to be there. This wedding is particularly interesting for Kate, as it's the biggest event she's attended since going on maternity leave after giving birth to the couples' third child, little Prince Louis.
Of the above photo, Cobb says that even though they aren't touching or even looking at each other, they're connected. "They fit together," Cobb says, and the way that "their heads are angled down" actually shows a lot. In fact, according to Cobb, "their body language mirrors that of each other and shows that they're in sync and that there's an emotional tie and connection there."
2. They're mirroring each other.
When the royal couple showed up at Princess Eugenie's wedding, they were still incredibly in sync. Here, we see Will and Kate matching strides. Cobb says that there's a "parallelism in their body language that shows a true connection." Honestly, look at them! Mirror images of each other.
3. They even showed some rare PDA.
Besides the adorable dynamic between Eugenie and now-husband Jack Brooksbank, another standout moment that got people talking at the royal wedding was the show of intimate PDA between Will and Kate. This never happens!
"I'm going to say this is probably a no-no in the royal family," Cobb says of Kate's hand on Will's inner thigh. But really, they're just a "young couple in love. Even though they're not looking at each other, their body language is saying 'Honey I'm thinking of you.'"
4. Seriously, this is a huge deal.
In this photo, you can see Will reciprocating Kate's PDA and holding her hand. According to Cobb, this just means that even though they're both distracted, "they still are there for each other." Ugh, so sweet!
Obviously, Middleton and Prince William weren't the stars of the show, but they still made quite the impression. After publicly being an item for over 14 years, you might expect their love to have dimmed over the years, but according to Cobb, they're still going strong. Bless.