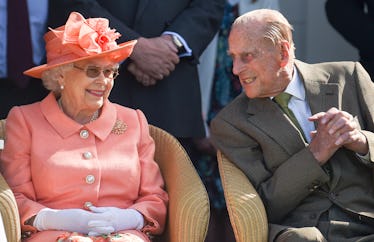 10 Royally Cute Things Prince Philip Has Said About Queen Elizabeth
Antony Jones/Getty Images Entertainment/Getty Images
Prince Philip and Queen Elizabeth have been married for 72 years. In that time, they've raised four children, traveled the world, navigated countless royal engagements, and served as the head couple of the British monarchy since Elizabeth was crowned in 1953. In other words, they've experienced more than most people could imagine — and they've stayed by each other's sides through it all. Prince Philip's quotes about Queen Elizabeth prove that their relationship hasn't always been easy, but they know the keys to making it work.
The Queen's husband is known for his sharp wit and sense of humor, but Prince Philip has a softer side as well — namely when it comes to loving and supporting his wife. "He is someone who doesn't take easily to compliments, but he has, quite simply, been my strength and stay all these years," Queen Elizabeth said during a 1997 speech to celebrate their 50th wedding anniversary. "I, and his whole family, and this and many other countries, owe him a debt greater than he would ever claim, or we shall ever know."
For his part, Prince Philip has said some pretty cute things about the Queen, as well. Here are some of his most memorable moments.