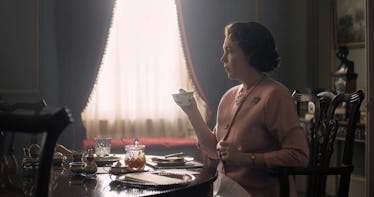 Let's Break Down The Biggest Historical Moments In 'The Crown' Season 3
Netflix
After a year away from Netflix, The Crown finally returned with Season 3. The historical drama series is based on the life of Queen Elizabeth II, the current reigning monarch of the U.K. The first two seasons covered 1947 from the time of her wedding to 1964, after the birth of her last child. Now it's the late 1960s, and a new set of actors have taken over to cover QEII's middle age period. But is The Crown Season 3 historically accurate? The maddening answer is well... sort of. Warning: Spoilers for The Crown Season 3 follow.
Writer Peter Morgan is known for taking royal history and dramatizing it, from 1997's The Queen to 2013's The Audience. But there's no access to the people who lived it. So the reconstructions of events are either conjectures based on news reports, or in tabloid rumors of the era.
That doesn't mean this is all made up, a la Downton Abbey. All of the significant dates and events shown in Season 3 did happen. The show takes creative license to tell the stories of these people, what might drive them to make the choices they do, and why they are characters worth watching and sympathizing with.