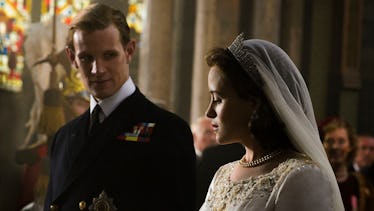 How Real Is 'The Crown' Season 2? We Investigate The Truth Behind The Netflix Series
Netflix
The Crown, Netflix's thinly fictionalized history of the reign of Britain's current monarch Queen Elizabeth II, returns this December for another round of a show so conservatively royalist in its myth-making, even Liz II herself enjoyed it. But with any historical fiction, how much of the story we're seeing is the real thing? How much of it has been censored or cleaned up for a better story? How real is The Crown Season 2?
Before diving in, we should remember who is telling this story. Peter Morgan, the man who created The Crown, first gained recognition for his movie The Queen, a historical fiction based on the period directly after the death of Princess Diana, starring Helen Mirren. That period of 1997 was one of the most anti-Royalist periods in the UK in living memory, and nearly brought down the monarchy. Yet Morgan turned it into a tour de force, in which we the audience sympathize deeply with Queen Elizabeth II. This movie was instrumental in the idea we now have that she "Keeps Calm and Carries On."
Taking that into account, we should maybe consider what we see going forward with a few grains of salt.
So... did it happen?
Philip's Trip Abroad
Verdict: Maybe
There have been rumors of affairs over the decades, which the show treats as fact, including with dancer Patricia Kirkwood. It's easy to believe that rich, white privileged men would sleep their way across South Asia and at house parties. But the palace has denied it all, and continues to do so to this day.
The Suez Crisis
Verdict: True
Anthony Eden started a war with Egypt under false pretenses in 1957, colluding with France and Israel. He botched it so badly, he took an extended health vacation, only to return to the UK and find himself facing a revolt from inside his own party. It ended his career.
The Parkers' Divorce
Verdict: Half-True
Mrs. Parker filed for divorce, citing infidelity, while Philip was on his tour. But there were no letters of Philip cheating. Parker was not forced to resign immediately. He did leave eventually, but Elizabeth was so sorry to see him go, she made him a Commander of the Royal Victorian Order after he resigned.
Lord Altrincham
Verdict: True
Altrincham wrote that article, those quotes are direct. He went on TV after it blew up, and was punched in the face on his way out by a right wing loonie.
He was asked to the palace for ideas to "modernize." All of his suggestions were implemented. The Palace credits him with doing more to modernize the monarchy in the 20th century than anyone.
He met with the private secretary. He may not have spoken directly to the queen, but she was listening.
Rev. Billy Graham
Verdict: False
Billy Graham crusaded in the UK, but *not* at the time. Altrincham (Episode 5) was 1957. Margaret's marriage (episode 7) was 1960, which puts episode 6 at 1958-59. Graham visited the UK in 1954, 1955 and 1961.
But he was a popular figure in the UK. The Queen liked him so much, he has an honorary knighthood.
Edward: Nazi Collaborator
Verdict: Complicated
True: The Duke and Duchess were Nazi sympathizers, they made a lot of appeasement noises. Those 1940 tour pictures are real.
Rumor: There was correspondence recovered, but not "accidentally" found. Historians believe George VI knew about them and sent UK officers to hide them. Despite his efforts, they were eventually published. There were claims that Wallis Simpson slept with the German Ambassador and passed on secrets.
Problematic: The show believes Edward is intelligent, therefore it condemns his choices. But it is unclear how much he sided with Hitler, or if his enthusiasm was just a response to the flattery of his bottomless ego that desperately needed propping up after abdication. (Not unlike Trump responds to dictators today.) The show makes it sound like Edward was into being reinstated as King, but the claims are that Hitler wanted to kidnap him for it. That doesn't sound like someone fully aware of what he supported.
Margaret's Husband
Verdict: Half-True
Antony Armstrong-Jones was no outsider. He took official portraits of Elizabeth and Philip in 1957. The picture of Margaret was official too. There was no objection to their marriage, though the suggestion she got engaged the day she heard Townsend was marrying is a long-standing rumor.
They married in 1960, three months after Andrew was born. Her wedding gown is an exact recreation.
Polly Fry was pregnant with Tony's kid at the time of the wedding. It was raised her husband's. Jones denied it was his for decades, but in the end a DNA test proved it was.
Ghana
Verdict: Half-True
During this period, the UK empire lost Ghana as a colony, along with many others. Ghana agreed to "Commonwealth" status, which boiled down to Elizabeth retaining visitation rights, and her face on currency. But Ghana's leader did flirt with Russia almost immediately after.
As for the state visit, Macmillan did not protest her going. In fact, he insisted she go, and it was he who saw her as his "charm offensive." It worked.
(She did do the foxtrot.)
The Kennedys' Visit
Verdict: Half-True
Jackie Kennedy did charm the pants off the French. The dress Elizabeth wears is an exact recreation. But everything else: the friendliness between her and Elizabeth, the sneering afterwards, are rumors only. (So are the claims of drug use by the Kennedys.)
The assassination of Kennedy was a big shock in the UK. The bells of Westminster Abbey were rung as part of the "special relationship" between the US and UK, and the court did go into mourning.
Philip's Past
Verdict: Mostly True
Philip's mother was institutionalized. He spent most of his childhood shuffled to relatives. He attended Gordonstoun and loved it. His sister Cecile married German royalty, who took to the Nazi party when it rose to power, to keep themselves from being overthrown.
She was killed in a plane crash in 1937, but not alone on her way to see Philip. The entire family was traveling to London for a wedding, and all perished. They were buried by the German state, with full Nazi rites.
Was Philip a Nazi? No. He served on the side of the Allies in the war. But it's easy to see why the UK press were suspicious.
Charles' Childhood
Verdict: True
Charles was made Prince of Wales in 1958. He was the first royal heir to go to school instead of raised by a governess. He was not given deferential treatment at Hill House, and the beatings he took are why Elizabeth moved him to Cheam Prep.
Philip pushed to move him to his own alma mater, Gordonstoun. Charles hated it, and did call it "Colditz in kilts."
Harold Macmillan
Verdict: Mostly-True
Harold Macmillan was the architect of the "special relationship." His wife had an affair throughout their marriage. (It was an open secret, as is referenced at the party Margaret goes to.) Supposedly it drove him to a nervous breakdown, which the show uses as their basis for the use of the benign prostate tumor to resignation.
Elizabeth's agreement to "appoint" Alec Douglas-Home as his successor is true, as is the public's reaction. Breaking the Crown's apolitical stance here, historians agree, was one of the worst decisions of her entire reign.
The Profumo Affair
Verdict: Mostly-True
The Profumo Affair details are correct. John Profumo had an affair with model Christine Keeler, who was accused of being a Russian spy. He initially lied, and when caught out, resigned. Ward did commit suicide for his role.
There's no proof Philip was involved in these house parties. The portraits existed, but Ward did illustrations for The Illustrated London News. He did one of Margaret too.
Elizabeth's Children
Verdict: True
Elizabeth gave birth to her last two children at 35 and 37. Andrew was born in February 1960, and Edward in March of 1964. Margaret was pregnant the same time she was in 1963, and gave birth to her second child, Sarah, in May of 1964.
The Crown Season 2 is now streaming on Netflix.