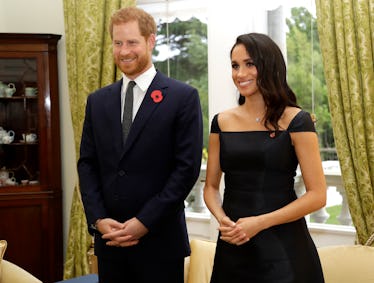 Prince Harry Just Called His & Meghan Markle's Future Baby The Most Adorable Thing
Pool/Getty Images Entertainment/Getty Images
Is there a cuter dad-to-be than Prince Harry? I really don't think so. The Duke of Sussex has practically been glowing during his first royal tour with wife Meghan Markle. I mean, he's pretty much been talking about his pregnant wife and their growing family non-stop while making the rounds down under. He even showed his support for the Duchess of Sussex by reportedly making a toast with water instead of an alcoholic drink. So amazing! Now, the expectant dad has just revealed what he calls the little royal-to-be. And OMG, you guys — Prince Harry and Meghan Markle's nickname for their future baby is actually so adorable I can't take it.
OK, so on Oct. 29, Prince Harry was giving a speech in the rain at the Abel Tasman National Park in New Zealand. While raindrops fell loudly behind him, he told the crowd how glad he was to be on tour, and how the inclement weather was actually a blessing. I just love how he is always such a glass-half-full kind of guy, don't you? Anyway, it was during this little chat that he let the pet name for the couple's little bundle of joy slip — and he did it with a big ol' smile on his face.
"From myself and my wife and... our little bump," he said. "We are so grateful to be here."
Did you hear that, you guys? He said "our little bump," and nothing in the whole wide world has ever been more adorable. Such a proud expectant father. That little bump is already so freaking lucky and he or she is not even born yet!
The royal couple first announced that they were expecting on the official Kensington Palace Twitter on Oct. 15.
"Their Royal Highnesses The Duke and Duchess of Sussex are very pleased to announce that The Duchess of Sussex is expecting a baby in the Spring of 2019," the post read.
It's all just so exciting. I mean, Prince Harry can barely seem to contain his excitement over the fact that he and his wife are welcoming a new addition in just a few months.
"It is obviously great to be back in Australia," he told the crowd while speaking at a reception at Admiralty House at the end of the couple's first day in Sydney on Oct. 16. "This is my wife's first visit here, so I'm very excited to show her this incredible country of yours."
Then, just a few days later, while giving a speech at the Invictus Games Opening Ceremony in Australia on Saturday, Oct. 20, Prince Harry was at it again, gushing about both his wife and the big baby news.
"First of all, thank you for the welcome you have given Meghan and I over the last few days," he said. "I have been so proud to be able to introduce my wife to you and we have been so happy to be able to celebrate the personal joy of our newest addition with you all."
New goal in life: Find yourself someone who's as supportive of their partner and as pumped to be a parent as Prince Harry is.