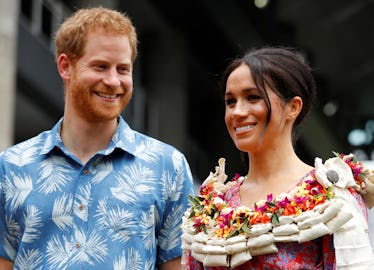 Prince Harry Had A Matter-Of-Fact Response To A Fan Predicting His Future Baby Will Be A Boy
Pool/Getty Images Entertainment/Getty Images
Fans of the royals just can't seem to stop talking about Prince Harry and Meghan Markle's baby. They're hung up on one thing in particular, though: everyone wants to know what the little babe's sex is going to be. You know what? I feel this so hard. I mean, it's a fun little guessing game, you know? Will Meghan give birth to a ginger-haired son? Or will the couple welcome a dark-haired daughter? Obviously, we'll have to wait until spring 2019 to see how this will all play out. In the meantime, Prince Harry's reaction to possibly having a baby boy shows he is totally paying attention to all the fan predictions and it maybe even hints at whether he wants a boy or a girl himself. And OMG this is exactly why we love him.
OK, so the Duke and Duchess of Sussex are now on the ninth day of their royal tour and, during the couple's stop at the University of the South Pacific in Fiji, a male student shook Prince Harry's hand and congratulated him on the baby news. He then told Prince Harry with a laugh that he thinks Meghan is preggers with a boy.
"Everyone else is predicting it's going to be a girl!" the Prince shot back without missing a beat.
Watch at 2:08 below:
Such a cute moment, right? I kind of love that Prince Harry is paying attention to his fans' predictions, don't you? Or maybe his response was just wishful thinking. Because when the Duke and Duchess of Sussex were in Sydney, Australia on Oct. 21 for the Invictus Games, the dad-to-be revealed to a fan that he actually hopes the baby will be a girl.
And yes, there is a video of this moment.
In the clip, a fan calls out to Prince Harry that she hopes the baby is a girl, and Harry responds: "So do I!" and then pivots over to the security barricade to stop and say hi to a couple of little kids who are trying to get his attention.
So sweet!
The royal couple first announced that they were expecting on the official Kensington Palace Twitter on Oct. 15.
"Their Royal Highnesses The Duke and Duchess of Sussex are very pleased to announce that The Duchess of Sussex is expecting a baby in the Spring of 2019," the post read.
It's all just so major! I mean, even Prince Harry can barely seem to contain his excitement over the fact that he and his wife are welcoming a new addition in just a few months.
"It is obviously great to be back in Australia," he told the crowd while speaking at a reception at Admiralty House at the end of the couple's first day in Sydney on Oct. 16. "This is my wife's first visit here, so I'm very excited to show her this incredible country of yours. Thank you for the incredibly warm welcome. We also genuinely couldn't think of a better place to announce the upcoming baby — be it a boy or a girl."
Either way, congrats are definitely in order!