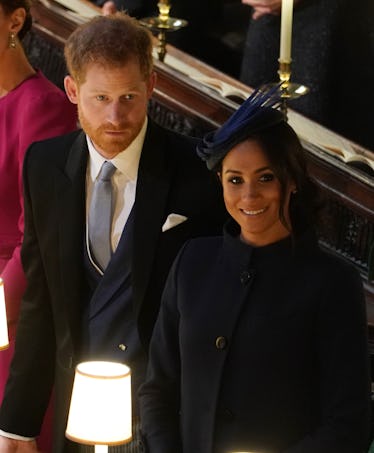 Prince Harry & Meghan Markle's Body Language At Princess Eugenie's Wedding Was As Sweet As Ever
WPA Pool/Getty Images Entertainment/Getty Images
It seems like just yesterday, the Duke and Duchess of Sussex (i.e. Prince Harry, Duke of Sussex and Meghan Markle, Duchess of Sussex) were saying "I do" at their own royal wedding. But based on Prince Harry & Meghan Markle's body language at Princess Eugenie's wedding this morning, their connection is still as hot and new as ever. Princess Eugenie and now-husband Jack Brooksbank tied the knot at the same place that Harry and Meghan had their royal wedding back in May 2018 — St. George's Chapel at Windsor Palace. And although they managed to successfully not steal the spotlight from Eugenie and Jack (because honestly, everyone deserves all eyes on them on their wedding day), they did make an absolutely stunning couple. Nothing new here, folks!
Meghan (clad in a navy Givenchy dress coat and Manolo Blahnik heels) and Harry looked stylish as ever to watch Harry's little cousin walk down the aisle. They also seemed happy to be there and in good spirits (probably super pumped for the two-day royal wedding reception at the Royal Lodge in Windsor, TBH). It makes sense. How pumped were you to get ~lit~ when your last cousin got married? Plus, Eugenie and Harry are decently close in age (she's 28 years old, he's 34), so it's not surprising that they'd have a close relationship. In fact, a source reportedly told The Mail Online that Eugenie and Jack paid Meghan and Harry a visit "around a month ago for Meghan to help the bride-to-be with her wedding plans." Furthermore, Harry and Brooksbank are also reportedly friends (I mean, who wouldn't be if you're practically family for seven years), having met when Brooksbank was a waiter at Chelsea's Admiral Codrington pub and the Markham Inn.
Now that we know that Harry and Meghan were probably pretty psyched for the new addition to their family, let's dive into their body language. It's pretty incredible just how much you can tell about the inner workings of a relationship by a couple's body language. Meghan and Harry have consistently always shown loving, protective, super-hot body language, and according to body language expert Blanca Cobb, today's royal wedding was no exception. Here's what she had to say.