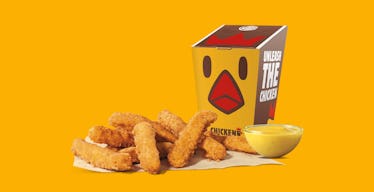 Postmates Is Offering Free Burger King Chicken Fries, So Cancel Your Dinner Plans
There are very few things in life that make me immediately as happy as free food does. It's the little things, right? If you feel the same way as I do about free eats, then you'll be very happy to hear about the latest news from one of your most-used food delivery apps. Postmates is offering free Burger King Chicken Fries, and it's so easy to take advantage of this delicious deal.
The limited-time offer from Postmates is good from Monday, July 23 through Friday, July 27 at midnight (local time from wherever you order), according to Postmates. The one-time-only deal is good for one free 9-piece Chicken Fries from Burger King per customer while supplies last. Postmates customers can get their free Chicken Fries delivered to them from a Burger King location found in the Postmates app, and they will only have to pay the delivery fee.
This is perfect timing for free food, because endless summer activities make it tough to find the time to plan your meals. Plus, your free Chicken Fries come complete with the sauce of your choice, and there are plenty of fitting options that will go great with your Chicken Fries. Take your pick from BBQ, Honey Mustard, Ranch, Zesty, Buffalo, Ketchup, or Mayonnaise to round out your free meal.
Honestly, I don't think you can go wrong with any of the sauce options.
According to Fast Food Menu Prices, Burger King Chicken Fries usually sell for $2.99, so you can save that three bucks and add something that else you're craving to your order. Again, you will pay the delivery fee, but the 9-piece Chicken Fries won't cost you a thing.
If you're not familiar with Burger King Chicken Fries, then let me fill you in on all the crispy chicken goodness. According to the Burger King website, Chicken Fries have a light and crunchy breading that's flavored with various spices, and the fry shape makes them perfect for dipping into your favorite sauces. Seeing as though Postmates is offering a 9-piece order of Chicken Fries for free, now is the perfect time to give this BK menu item a shot if you've never tried it before.
Chicken Fries have been an extremely popular item at Burger King since they were first introduced in 2005. In fact, they've been such a hit with customers that Burger King even introduced a variation of them when it released the limited-time offering of Crispy Pretzel Chicken Fries back in June 2018. The Crispy Pretzel Chicken Fries were coated in a salty and crunchy pretzel breading, and they were a very welcome addition to the Chicken Fries family. Unfortunately, the Crispy Pretzel Chicken Fries have already left the Burger King menu, but there's no shame in not-so-secretly hoping that they make a comeback.
Thankfully, the OG Chicken Fries are currently on the menu, and you don't even have to scrounge up the three bucks they cost to enjoy them when you order with Postmates from July 23 through July 27.