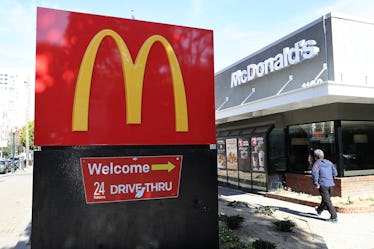 You Can Get Free McNuggets Delivered To Your Door & I've Never Been Happier
Justin Sullivan/Getty Images News/Getty Images
As a 20-something living in Brooklyn, my weekends most often consist of nonstop daytime adventures, which are then followed by various late-night shenanigans. Pretty typical, right? But between the royal wedding, allergy season (which is the bane of my existence), and general sleepiness, I could be completely satisfied with the possibility of not moving, like, at all this weekend. If leaving the couch is way too much for you right now, too, here's how to get free McDonald's McNuggets delivered straight to your door from Postmates. I have no idea what I did to deserve this, but it's a blessing from above.
Maybe you're taking it easy this weekend because work has been so chaotic this week. Or maybe it's because all of the pollen is taking over the planet's air supply, and your dear respiratory system is on the brink of completely collapsing (holla!). Regardless as to why you're choosing that #StagnantLife, the fact that Postmates is offering free McDonald's McNuggets is the best thing I've yet to hear this week. Luckily, getting your hands on some is super simple. For your sake, I really hope it'll bring you some of that good old-fashioned chicken nugget power.
According to Food & Wine, you can get free McDonald's nuggets by logging into the Postmates app, or by logging on to the Postmates website. Make your way to the "featured items," where you'll see the highly-anticipated "Free Nuggets" promotion. Continue to follow the instructions to add the nuggs' to your cart, confirm your payment and delivery information, and voila! Your closest Postmates-participating McDonald's restaurant will deliver you a six-piece fo' free. Yep, that's right, you heard me: fo' free. (The delivery fee still applies though. Sorry, y'all.)
As long as your city is served by Postmates, you'll be able to get in on these free chicken nuggets. But unfortunately, the deal is only available for a limited time, and the end date hasn't yet been specified. So make sure to grab your six free nuggs while the offer is still valid, because missing out on them would be an absolute travesty. Also, keep in mind that there's a limit of one order per customer, OK? I'm watching you... no funny business.
After demolishing those free nuggets, you might find yourself craving a Tostitos' "wedding cake" dip, while watching the royal wedding. Tostitos created this gorgeous seven-layer "cake" in honor of Prince Harry and Meghan Markle's special day, and it's one of the most lit chip dips I've yet to see. They posted a recipe to their website which includes step-by-step instructions, but to put it simply, it really just involves evenly layering two jars of Tostitos Salsa Con Queso, two packages of Sabra guac, two jars of Tostitos Queso Blanco Dip, two jars of Tostitos Chunky Salsa, two cans of refried beans, two packages of sour cream, and one package of cherry tomatoes on top of each other, in one small, one medium, and one large serving bowl. Then, you'll place each bowl on top of each other, making it look like a tiered wedding cake. (The smallest bowl will go on top, and the largest will be on the bottom. ) It'll definitely act as a delicious followup to those six free chicken nuggets.
I don't care what you're doing this weekend. Whether you're sky-diving, going to the coolest rooftop bar in all of New York City, or if you're planning on being a lazy bum (like myself), free McNuggets are a glorious offer that you don't want to miss out on. Getting them is super simple, but make sure to snag some ASAP. Oh, and if you need me, I'll be on my couch, eating nuggets, and preparing for this royal wedding. Do not disturb.