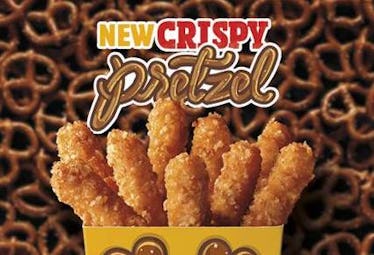 Burger King Released New Chicken Fries & They're Covered In Pretzel Breading
Burger King
Everyone knows that breakups can be really tough. Sometimes, they happen mutually — and other times, they happen because of differing wants and needs. The hardest part, though, is getting over the breakup. Until recently, for example, I was really hung up on Burger King's classic Chicken Fries... you've probably heard of 'em. But now that Burger King's Crispy Pretzel Chicken Fries are here, I'm starting to realize where my heart really is. BK's Pretzel Chicken Fries are basically a blessing from above, and they're the salty, crunchy snack I crave all day long. Life is good, and I'm proud to say that I am truly happy with my decision.
I hate to admit this, but for the longest time, I had a deep, dark obsession with BK's Chicken Fries. Between their delectable crunchiness and impeccable dip-ability, they were a vital part of my existence for as long as I could remember (until we broke up, that is). But after that, it took months... years... maybe even decades for me to stop thinking about them. And while I felt like my obsession was relentless, BK's latest and greatest creation, the Crispy Pretzel Chicken Fries, has definitely changed my life around. Plain old Chicken Fries feel like the ghost of my order's past at this point, and I don't think I could ever look back.
In terms of the ~juicy deets~, Crispy Pretzel Chicken Fries are made up of white meat chicken strips, which are coated in a salty and crunchy pretzel breading. Finally, they're seasoned with an assortment of spices and herbs, and mesh perfectly with any and all available BK dipping sauces. Right now, you can choose from BBQ, Honey Mustard, Ranch, Zesty, Buffalo, and Sweet & Sour (I personally have my eyes on the Buffalo Sauce for these beauties, but you do you). And for an incredibly reasonable price of $3.09, they're totally worth it — trust me on this.
This might make me sound a little shallow (so no judging, please), but the #aesthetic of Crispy Pretzel Chicken Fries is almost as divine as their taste. Just soak in all of those crunchy bits, mixed in with giant, mouth-watering chunks of salt. I cannot get enough of these. Do Crispy Pretzel Chicken Fries dabble in modeling? They should definitely consider getting in front of that camera more often.
I should warn you, though: You better get your hands on these babies fast, because they'll be gone before you know it. According to the press release, BK's Crispy Pretzel Chicken Fries will only be around for a limited time at participating restaurants. While their dates of availability have not yet been specified at this time, I would whole-heartedly recommend getting a jumpstart on these. I'm not saying you should run there, but you definitely shouldn't walk. Perhaps a nice jog would suffice?
If you're a real BK chicken connoisseur, you were probably elated when the fast food giant re-released a totally classic menu item earlier this year: the Spicy Chicken Nuggets. They were only around for a limited time, but it was the best blast from the past. Nothing tastes better than Spicy Nuggs' and BBQ sauce.
Burger King news is always the best news, especially when they come out with a new menu item... and the Crispy Pretzel Chicken Fries definitely don't disappoint. Between their salty, crunchy goodness and their drop-dead gorgeous looks, it's clear that they've basically won 2018. While they're a total glow-up from OG Chicken Fries, though, there's no way they'll replace them. I can't drop everything for something I know is only temporary. That's why I need to get as many as possible before they're gone.