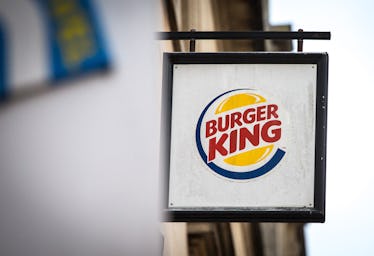 Burger King Is Bringing Back A Spicy Menu Item That You'll Love
Matt Cardy/Getty Images News/Getty Images
Pretty much anyone can admit that food nostalgia is way too real. For example, one of my most nostalgic dishes is chicken nuggets. They were a childhood favorite, and I think about them all the time. And even though vegetarianism has unfortunately torn us apart, you can still enjoy them. In fact, Burger King's Spicy Nuggets are back for the ultimate #TBT, and I am drooling (I'm also very jealous).
Burger King is bringing back all of the feels on Friday, April 20. According to a press release, the company will be offering their popular menu item, Spicy Chicken Nuggets. The catch is that they'll only be around for a (very) limited time, so get your butt to your local BK restaurant ASAP. You'll be happy to know, however, that they're being sold for only $1.69 for a 10-piece. A freaking 10-piece for less than $2 — can you believe that gorgeous monstrosity? I'm like a little kid in a freaking candy store right now. Did I just travel back in time? What year is it? Somebody pinch me, I have to be dreaming.
In case you didn't give Burger King's spicy nuggs' a shot back in the day, they quite literally taste like a medley of friendship and family. According to the press release, Burger King's Spicy Nuggets are baked with love in spicy home-style breading, which is how they pack such a delectable punch. Pro tip: BK Spicy Nuggets taste great in their signature Barbecue Sauce. It feels like a hug from inside your stomach... trust me on this one. I could be entirely off, but I'm pretty sure this is how Simba's kingdom felt when he returned to Pride Rock. Spicy Nuggets are back from the dead, and this is groundbreaking.
Even though this happens to be a wildly rare occurrence, it actually isn't the first time that Burger King has temporarily brought back their revered Spicy Nuggets. In October 2017, Wendy's (fast food giant and competitor) removed their version of spicy nuggets from their menu, and Burger King decided to one-up them with a limited-time Spicy Chicken Nugget relaunch on Oct. 10. To add gasoline to the flames, they offered a 10-piece for only $1.49, and it was probably the most legendary shade ever thrown. Even though it kind of felt like my best friends were in a fight, I was all about that delectable end result.
If you consider yourself to be a chicken nugget-eating pro, then I have the ideal job for you. B&M, an England-based grocery store, was seeking a Chicken Nuggets Connoisseur, which is basically someone who gets paid to eat chicken nuggets. Relevant experience is, in fact, required, and although the taste-testing position is temporary, being able to taste both fresh and frozen food as your freaking profession is seriously a dream come true. The lucky hired employee receives £25 ($35) in food vouchers to B&M stores in order to fund all outside chicken nugget eating. Nugget lovers unite.
If your favorite childhood meal wasn't nuggets, then I'm honestly not sure if we would have been friends. But if you wanna relive the glory days, then run to your local Burger King restaurant ASAP and order all of their Spicy Nuggets. You won't be disappointed. I am assuming they'll re-release them in a few months (based off what's happened in the past), but acting quickly is vital. If you decide that you're really good at eating them when you get there, consider a job in chicken nugget taste-testing. You could actually be a freaking legend in the realm of nugget-eating.