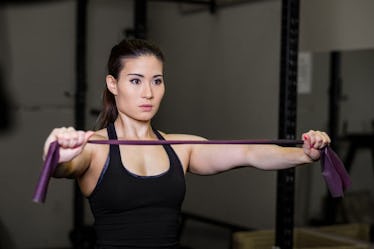 Pinterest Revealed The Top Wellness Trends To Watch For In 2019, So Keep Your Eyes Peeled
The day I discovered Pinterest was practically a dream come true. I've been obsessed with crafting for as long as I can remember, so an entire website dedicated to saving ideas for super artsy cake decor or instructions for upscaling a vintage bookshelf were right up my alley. Pinterest 100, the platform's annual look at the top trends people are searching for and pinning, shows a number of trends to look forward to in the new year. Pinterest's top health and wellness trends for 2019 are full of unique ingredients, fitness products, and — in keeping with the social platform's roots — plenty of DIY recipes for you to try out.
According to Pinterest 100's press release, users are turning to the platform to plan their upcoming travels, find new ways to incorporate self-care into their busy lives, and plan the most wonderful parties of the year. If you're a regular Pinterest user, chances are you're in for an experimental 2019 when it comes to your makeup routine, because women on the site are over two times more likely to experiment with makeup than women on other social media platforms, according to Pinterest 100's press release.
No matter what you turn to Pinterest for, go ahead and explore some of these new trends, because you might just find a new obsession to pursue in 2019.