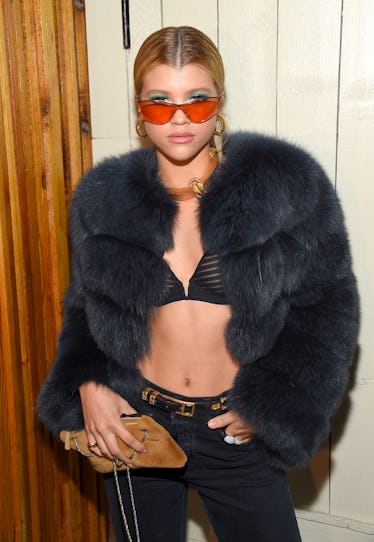 Sofia Richie DGAF, Tans Topless With Boyfriend Scott Disick On Vacation – PHOTOS
Matt Winkelmeyer/Getty Images Entertainment/Getty Images
If you're reading this, that means you've woken up to yet another godforsaken morning where nothing makes sense, everything is upside down, and Scott Disick is dating baby faced, 19-year-old, actual child Sofia Richie. The two have made it official, despite the public outcry over their whopping fifteen-year age difference. (Plus that whole thing about how Sofia can't legally drink for another three years.) Pictures of Sofia Richie and Scott Disick tanning on vacation prove they're still going strong, and still don't give one little F about what you think.
It's been a weird time following Scott Disick IRL and on the series Keeping Up With The Kardashians, as there is a bit of a delay between news breaking in real time and us finding out what went on behind the scenes as it airs on the show. Disick first began his spiral into dating younger women at the Cannes festival over the summer, a time period that is now being aired on KUWTK and discussed by his ex's famous family.
Admittedly, Disick tells Kim in last week's episode that he was seeking happiness in the wrong places by hanging out with lots and lots of younger women to get over Kourtney.
Well, looks like he's officially found it, at least for now, with Sofia.
Photos have recently surfaced of the new couple tanning in Cabo San Lucas, Mexico, where Richie casually went topless after stepping out in a black bikini. Disick appeared to be busying himself on his phone.
Of course, this series of pics isn't nearly as alarming as that congratulatory cake we still don't have details about from late September.
If you guys remember, Disick and Richie were out to dinner when a sparkling wonder of a dessert appeared with the message, "Congratulations Scott and Sophia." No mind her name was spelled wrong, the two were clearly delighted and embraced in an epic kiss, making me feel all kinds of weird.
The purpose of the cake is still a mystery, but fans seem to sleep sound knowing it isn't because of a baby or engagement, for now.
It would be fair if we all thought this relationship was a passing fad, as Disick regularly participates in on-again off-again flings with young women since his breakup with Kourtney. Still, these Mexico photos prove Sofia has a little more staying power.
For her part, Kourtney actually is going strong with her younger boyfriend Younes Bendjima, who coincidentally is also 14 years her junior. He also just began popping up on the KUWTK series timeline this past week.
In recent episodes, Bendjima is regularly referred to as Kourt's "friend," and fans find out that he and Kourtney met the same weekend of Kim's infamous Paris robbery. Kourtney revealed to Khloé he even helped that night with french translations.
Some of the first photos we saw of Younes and Kourtney were on a jet ski at the same Cannes festival where Disick began to spiral out.
The image was weirdly mirrored by Sofia and Disick a few months later.
If there's one thing we can count on when it comes to Scott Disick, it's usually that we can't count on Scott Disick. He's been known to mingle with other girls while simultaneously admitting he will only ever truly love Kourtney.
As far as Sofia's people are concerned, her famous dad Lionel Richie is shook by his daughter's relationship. He told Us Weekly, "Have I been in shock?! I'm the dad, come on." He added, "I'm scared to death, are you kidding me?"
Actually, it looks like they aren't, Lionel.
Check out the entire Gen Why series and other videos on Facebook and the Bustle app across Apple TV, Roku, and Amazon Fire TV.