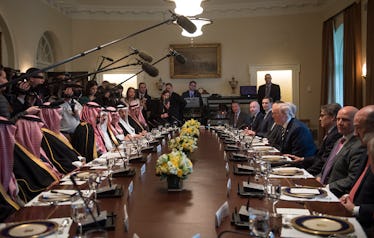 Can You Spot What's Missing In This Photo Of Trump's Meeting With Saudi Arabia?
Pool/Getty Images News/Getty Images
On Tuesday, March 20, President Donald Trump met with Crown Prince Mohammed bin Salman of Saudi Arabia. The two leaders, who have both been recognized for shaking up their respective country's politics, though in vastly different ways, met with a group of advisers in the Cabinet Room at the White House in Washington D.C. It was a room full of political leaders and reporters. But photos of Trump's meeting with Saudi Arabia's crown prince left a few people raising their eyebrows — not over who's in the pictures, but, rather who is not in the pictures.
Missing entirely from this meeting of the leaders of two major nations was a female presence. As Emily Cochrane at The New York Times noted, there were more than 20 people at the meeting, and none of them were women. Now, this phenomenon may not be entirely surprising from the Saudi state, where women's rights are still very much limited, with women largely unable to even leave their houses without a male guardian and, when they do, are restricted to conservative abayas to cover their heads and bodies. But one would like to think that the United States of America, beacon of freedom, could find at least one woman in the White House to meet with foreign leaders.
You can see some pictures of the meeting for yourself here:
I don't know about you, but I, for one, just love to see a room packed full of men making global decisions that could very well affect my life. Hooray!
The binder full of men on the American side of the table, per Cochrane, included Vice President Mike Pence, Trump's son-in-law/senior adviser Jared Kushner, national security adviser H.R. McMaster, chief of staff John Kelly, energy secretary and Dancing With The Stars vet Rick Perry, and outgoing economic adviser Gary Cohn.
More than a few people took notice of the overwhelming lack of estrogen in the room.
The visuals at this meeting do not send the best message about gender equality in America. While it of course does not mean that gender politics are the same in America as they are in Saudi Arabia (to be clear: very different countries), it does speak to criticism that has been hounding Trump since he started showing up on tabloid covers decades ago. Trump does not have the best reputation in his treatment of women, and now that he's president, his actions have larger consequences. As president, he's literally not bringing women to the table to have a voice in what happens in the world. Given that women make up 50 percent of the world's population, that's not a good thing.
This isn't the first time the Trump administration has faced criticism for not including women at meetings. Early in his presidency, Trump was lambasted for a picture he tweeted from the Oval Office of what appeared to be a bunch of white men and one white woman giving a thumbs up.
Similarly, last March, Trump was slammed for meeting with a bunch of men to talk about health care. Because, ya know, women don't have any ideas about what kind of health care the country should have.
Optics: They matter. Trump has repeatedly reinforced the idea that men (and, specifically, white men) are the ones who should be leaders. That message, sadly, isn't just coming through in pictures, but in appointments, as well. A September 2017 analysis found that 80 percent of top job nominations made by Trump went to men, according to The Guardian.
It's to the point where even the administration itself is having trouble pointing out the women among them. For Women's History Month, the GOP posted an Instagram to celebrate women Trump appointed to "senior-level government and campaign positions," per Mashable. The list included 10 women. Among those women were Melania Trump, Ivanka Trump, and Karen Pence — so 30 percent of those senior-level women were just family members.
Back to the meeting at hand, while Saudi Arabia is nowhere near gender equality at the moment, Crown Prince Mohammed has made some relatively significant gestures towards women's rights since being named crown prince in June 2017. This has included allowing women to drive and join the military. In a CBS interview this week, Prince Mohammed said that women do not have to wear the black abaya or head cover. "The decision is entirely left for women to decide what type of decent and respectful attire she chooses to wear," he said.
There's still a ways to go for women to have equal rights across the world, let alone equal power. You'd just hope that the so-called leader of the free world would want to help push that along.