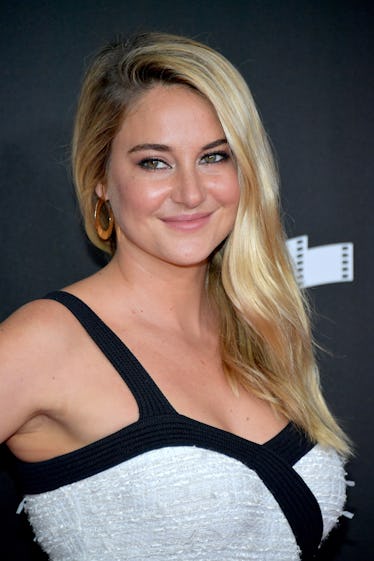 Shailene Woodley Just Made TWO Major Hair Changes At Once & I Can't Look Away
Neilson Barnard/Getty Images Entertainment/Getty Images
When it comes to celebrity hair, I've learned that the only thing I can rely on is that it's unreliable. But if you have the best of the best hairstylists available to you, why wouldn't you play around with your look? Photos of Shailene Woodley's black hair prove that a quick dye job can change everything, while causing quite the social media stir.
In case you've been living under a rock, Woodley's existing stardom rose even higher when she starred as Jane Chapman in the HBO miniseries Big Little Lies in 2017. The show was based off of Liane Moriarty's book of the same name and was so popular that even though the novel is a standalone story, the show has been renewed for a second season. (Starring Meryl Streep, no less.)
Along with her acting prowess, Woodley is known for her social an environmental activism and less so for dabbling in the worlds of beauty and fashion, but a girl can change. Woodley's off-duty style is usually very natural, either minimal or no makeup and messy buns galore (I can relate). On duty Woodley cleans up like the best of them, though, and as proven recently, she can rock a new hairdo with panache. The actress swapped out her golden locks for a darker look and it's not what I expected.
On Mar. 15, Woodley 'grammed a photo of her deep brunette hair, which had previously been blonde. "JANES BACK. #letsdothis #BLL2," read the caption. My first reaction was my inner-grammar nerd freaking out at the lack of apostrophe in what should've read as "Jane's" (Shailene, I love you, but didn't you learn your lesson from Emma Watson's Time's Up tattoo typo?). Then I was all, OMG BIG LITTLE LIES SEASON TWO! And then I finally noticed and fell in love with Woodley's new hair color.
Woodley's Instagram followers liked the look, too. "How do you get your hair so thick and beautiful!!??" commented one fan.
"Love love your hair color!" wrote another. I do, too!
"The dark hair looks great," confirmed a third. The actor-activist (actorvist? I may trademark that term) only gave her fan club five whole days to obsess over her rich cocoa-colored hair before she changed it up again, however.
On Mar. 20, Woodley stepped out in Hollywood for the launch of Made Up Stories, a new production company founded by Big Little Lies producer Bruna Papandrea. As exciting as the cast's reunion was, it was all trumped by Woodley's now black hair, not to mention her bangs.
After Woodley's Instagram post for her character's hairstyle, my guess is that this is another look for filming, but the actress has not confirmed it either way. The first season of Big Little Lies was mostly true to the book on which it was based, but the second season is uncharted territory. Woodley could be sporting a wig for the show, so maybe she was just wigging out for the night's event, or maybe she died her hair again for the show?
The bangs have me thinking the black hair is a wig — wigs with bangs are the easiest to pull off because there's no visible hairline — and also getting such blunt bangs like that is a major commitment. Actors like Woodley are commited to their craft, though, and I wouldn't put it past her to make this style permanent. Even after two dramatic hair changes in a matter of five days, Woodley's fans are still showing their support.
"Thinking of what hairstyle/colour Shailene Woodley can't actually slay cause damn!" She's a true hair chameleon.
Queen AF.
"How does she look good with every hairdo it's not fair?" It's really not.
A standing ovation for Woodley's hair, please.