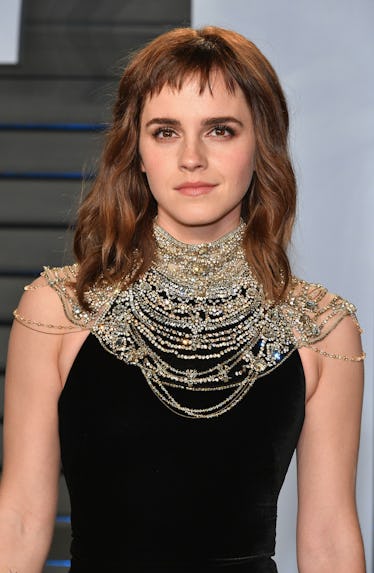 Emma Watson Debuted A Badass New Tattoo At The Oscars — With A Tiny Typo
Dia Dipasupil/Getty Images Entertainment/Getty Images
Emma Watson is known for her outspoken activism against sexism in Hollywood and around the world. She continues to support her cause even when attending some of Hollywood's biggest events, including the Academy Awards. On Mar. 4, Emma Watson's Time's Up tattoo made its debut at the Vanity Fair Oscars afterparty— and it was one of the most talked about accessories of the night.
Watson is a UN Women Goodwill Ambassador and one of the faces of HeForShe, a foundation which seeks to find a solution for gender inequality. Watson is a proud feminist and takes action wherever she sees a need for reform. The Time's Up and #MeToo movements are similar causes where Watson is using her celebrity platform for good.
Time's Up is particularly of the moment right now because it started as a means to end sexual harassment in Hollywood. The movement quickly spread to fight gender injustices happening all over the globe, but it was a focal point at the 2018 Oscars with many of Hollywood's most famous actresses speaking up about it.
Watson did not attend the Academy Awards, but did bless partygoers at the Vanity Fair soiree with her presence (it's the biggest post-Oscars bash each year), and showed up with a surprising accessory: a brand new Time's Up tattoo.
Watson wore a sleeveless Ralph Lauren Collection dress to show off her most statement-making accessory of the night, a Time's Up tattoo on her right forearm. Talk about commitment! Well, the tattoo actually looks to be temporary ink, but still, Watson made a bold statement.
A close-up image confirms that it is likely a temporary tattoo — the slight sheen surrounding the tattoo is a tell-tale sign of temporary ink adhesion. Watson clearly wanted the tattoo to be seen, as she wore a sleeveless dress and placed it on a part of her arm that would be easy to flaunt for the cameras. There was only one small problem with her tattoo: It had a typo.
The movement is called "Time's Up," a contraction of the phrase time is up. Watson's tattoo unfortunately omitted the apostrophe and read as "Times Up." The actress no doubt still got her point across, but some of the attention was regrettably focused on the grammatical error. It's so minor, I probably would've just grabbed some liquid eyeliner and added it in myself.
Watson's Oscars afterparty look also supported her commitment to a better future, with her fashion choices focusing on sustainability. She wore a vintage Ralph Lauren dress, meaning that no additional resources were used to create a new dress for the actress. Rita Moreno re-wore her 1962 Oscars dress, but she and Watson are in stark contrast to the many actresses who wear custom-made gowns for the evening.
Watson wore Roger Vivier shoes, which is "a brand promoting craftsmanship and supporting their local [Italian] town of Brancadoro." Watson's shoes cost a whopping $1,750, but as is the common practice for formal Hollywood events, she likely only borrowed them for the evening and they'll be worn again by other celebs. She carried a bag inside the party from Tyler Ellis, who employs local artisans in Italy to craft their purses.
The 27 year-old sported a "fair trade and recycled gold sapphire cuff" by female jewelry creator AnaKatarina Design. Watson also wore sustainably sourced ring and bracelet from Ana Khouri and Vrai & Oro earrings "made from lab grown diamonds and recycled gold." Watson's theme for her look was the timeless adage: Reduce, Reuse, Recycle. What a queen.
Watson has spoken up in the past about Time's Up, expressing her passion for the movement on Instagram.
There is no question that #TIMESUP should be and will be a global movement. A movement that is defined and led by those affected by the problem, not by those in power."
Social media hashtags don't use apostrophes or other punctuation marks, which is perhaps where any confusion over her tattoo design came from. Regardless, Watson conveyed her important message despite the tiny linguistic error. Speaking as a grammar fiend myself, sometimes there are more important things worth discussing.
UPDATE:
Watson responded to the grammar controversy with a humorous Tweet about her temporary typo, "Fake tattoo proofreading position available. Experience with apostrophes a must." Hey, Emma, I'm available!