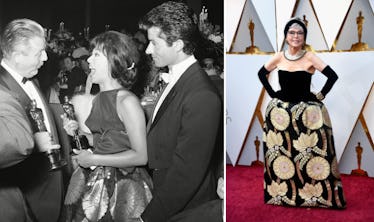 Rita Moreno Re-Wore The Dress She Won Her 1962 Oscar In & She Looks Stunning
Harold P. Matosian/AP/REX/Shutterstock/Frazer Harrison/Staff/Getty
Rita Moreno is best known for her 1961 portrayal of Anita in the film adaptation of West Side Story. The actress has been to countless award shows since then and has learned a thing or two about how to dress for such events. This year, she really looked to one of her previous styles for inspiration: In fact, Rita Moreno's 2018 Oscars look is the same dress she wore in 1962!
Moreno won the Best Supporting Actress Oscar in 1962, making her the first Latina to win the award. For her 2018 go-round, 56 years later, Moreno isn't nominated for anything, but she did present at the award ceremony.
"The fabric is made out of obi, which is the sash that Japanese women wear on their kimonos," Morena told Ryan Seacrest on the E! Red Carpet coverage. Moreno also commented that her dress was made in Manila, Philippines, and that she has kept it in her closet since she first wore it in the '60s. "You would think that it would tarnish, it's been hanging in my closet," said Moreno.
Moreno updated the dress ever so slightly and added some new accessories to modernize the look, but she mostly looks almost exactly how she did back in 1962. If outfit repeating is wrong, Rita Moreno doesn't want to (or need to) be right.
The skirt on the gown shows off the intricately woven Obi fabric.
"Just learned from Rita Moreno's daughter that her mom will be wearing the same gown she wore to the #Oscars in 1962," Vanity Fair correspondent Rebecca Keegan tweeted, being the first to learn from Moreno's daughter that the actress would be re-wearing her '62 gown.
You can see the alterations Moreno made to the gown in side-by-side photos.
In 1962, the gown had a boatneck top, but for 2018, Moreno chopped off the straps and turned the bodice into a strapless, sweetheart design. Moreno also added elbow-length black gloves and some additional jewelry.
Moreno's gold and black-beaded collar necklace and earrings both matched her dress of the same colors. She wore a turban-style headband as well as glasses, making her 2018 look much more accessory-heavy than her original outfit.
When Moreno was announced as a presenter for the show, she tweeted out a hint that her outfit would be rather exciting, but social media still wasn't ready for it.
"Long live Rita Moreno. ✨ 🌟," tweeted one fan of Moreno's vintage look.
"Rita Moreno wearing the same dress she wore to the '62 #oscars just proves she honestly IS Lydia from #OneDayAtATime. I love her so much 😭😭😭," wrote another admirer.
"Rita Roreno did THAT, a legend!! #oscars," another user tweet. A legend, indeed.
One viewer pointed out how incredible it is that Moreno fits into her 56-year-old dress: "Rita Moreno in the same gown she wore when she won the Oscar in 1962. I don't fit into my 'nice jeans' from last summer."
"Rita Moreno is still rocking a dress she wore 56 years ago and I can't even fit in one from last year #Oscars," said another user. Or last month...
"Rita Moreno's dress was just added to the 'in memoriam' list. #RIP," dreamed one Twitter user.
"1962/2018 - Rita Moreno is our recycling hero." Moreno is really just trying to be more environmentally friendly.
"I am dead and Rita Moreno's red carpet dress killed me," said another person. And honestly, same.
Another person tweeted, "Oh hey everybody no big deal just an 86 year old EGOT wearing the dress she won an Oscar in 56 years ago and looking fabulous @TheRitaMoreno." Moreno does indeed have the big four: an Emmy, Grammy, Oscar, and a Tony award, and now, a fashion trophy, too.
Moreno won everything. The rest of the evening is cancelled.