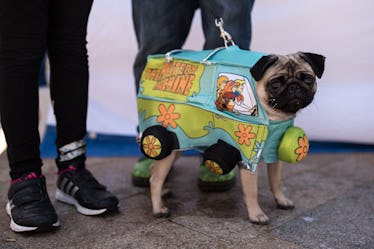 These Photos Of Pugs In Halloween Costumes Are The Treat You Need This Halloween
OLI SCARFF/AFP/Getty Images
Given that it's October 30, you're probably in full Halloween preparation mode. If you're only focused on Halloween, though, you might miss out on an even better, nay, cuter holiday. All you need to see to believe that "Pug-o-ween" may be better than Halloween are these photos of pugs in Halloween costumes.
Thanks to Twitter, photos of people dressing up their precious pugs in Halloween costumes are hitting the internet and creating a whole new phenomenon called "Pug-o-ween." Seriously, no tricks here. If you thought pugs were cute enough on their own (which they totally are), then you might want to brace yourself for the cute-factor that is a pug dressed up in a pumpkin costume.
The Twitter hashtag #pugoween is your one-stop shop when it comes to swooning over the most precious pugs you ever did see. Seriously, I'd recommend setting a timer to cut yourself off at a certain point because you could easily lose a few hours looking at these darling doggos. Better yet, if you're still scrambling to come up with a costume, you could just go to your Halloween party tomorrow, continually bombard your friends with photos of dressed-up pugs, and go as "girl obsessed with pug-o-ween."
OK, you've waited long enough. Let's get into the pug pictures.
Here's an adorable and seasonally appropriate pug just hanging out in some pumpkins.
This pug could reuse their costume again when it's time to dress up for career day.
This trendy pug knows that nothing completes the Halloween look better than a Zombie Frappuccino.
This pug has the fall princess look down pat.
I can hardly bee-lieve how well this pug is pulling of this costume. The flowers are the perfect touch.
You might have thought taking to land would save you from shark attacks. Then you saw this scary festive pug.
Even pugs can't resist the chance to sport some plaid in the fall.
If you've been looking for a way to get rid of all the It-inspired nightmares you've been having, just take one look at this adorable Pennywise pug.
All this pug needed to do was procure a set of golden locks, and the Rapunzel transformation was complete.
This little butterfly in action will give you all the pug feels you never knew you needed.
As an avid member of the anti-candy corn party, I've been made to rethink my stance due to the darling nature of this pug's costume.
Here's to hoping that the "pugosaurus" never becomes extinct.
This pug went the mythical route (and straight killed it).
So, if you're used to celebrating Halloween by eating too much candy while watching Hocus Pocus for the millionth time, get ready to switch it up. You don't have to forgo the fun-sized Snickers and Sanderson sisters altogether, but you might want to make time for just one more activity this holiday. I can almost guarantee that you won't regret your decision to expanded your Oct. 31 itinerary to include "Pug-o-ween" this year. There's even a good chance that it will enhance your Halloween experience so much that it will become a new yearly tradition.
Of course, if you have a pug (or any dog!) you can participate by dressing up your furry friends in the hottest pup fashions. Don't worry if you're not a pug owner just yet, though, because one search of #pugoween will have you covered with all the swoon-worthy pug cuteness you can handle. And, if that's not enough pugs for one day, you can also browse the goings on at Pugs & Pals, a recent pug pop-up café in London. Happy Pug-o-ween!
Check out the entire Gen Why series and other videos on Facebook and the Bustle app across Apple TV, Roku, and Amazon Fire TV.