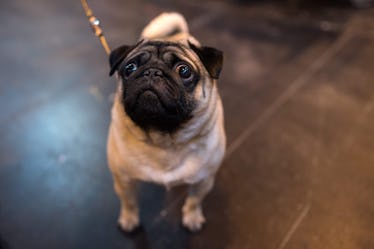 There's A Pug Cafe In London & It Will Put Your Favorite Coffeehouse To Shame
OLI SCARFF/AFP/Getty Images
There's no better place to spend a chilly fall day than your favorite café. Sipping a latte while keeping warm in the cozy atmosphere of the coffee house is what autumn dreams are made of. What if I told you that it could actually get even better than that? Really, it can, because there's a pug café called Pugs & Pals in London that will let you enjoy all of your favorite café qualities with your pooch in tow.
According to the Pugs & Pals website, the pop-up pug café will be open from Oct. 26 until Oct. 29 in Brick Lane in London. The Metro UK reports that you have Aida Martinez and her boyfriend Bartosz Kolodziejczyk to thank for this genius (and adorable) idea. Staying true to its name, the Pugs & Pals café only allows pugs and pug crossbreeds to sit down for a "pugguccino." Don't fret, though, because you don't need to bring a dog to gain entry to this pug paradise. Pug-lovers can book a table, too.
It's not too pricey, either. Pug owners can bring up to three people along with their precious pug, and it will cost £5 ($5.80 U.S.) per person for entry. Admirers of pugs can book a table for up to three people, and their entry fee is £10 ($11.61 U.S.) a person. That's a small price to pay for the chance to enjoy a "pugtail" or "puggilicious cupcake" right alongside their namesake.
Cupcakes have never looked so paw-some (A pug café post needs at least one pug pun, right?).
As would be expected with a concept like this, the demand to attend is pretty high, so you must make a reservation to make sure you don't miss out. If you can't make it to London by Oct. 29, don't worry, because Pugs & Pals is hoping to expand the café into a permanent offering (because dreams really do come true).
So, what can you expect when you go to Pugs & Pals? According to their website, the events include: Pugs & Cocktails, Pugs High Tea (everyday at 3 p.m.), Pugs & Frenchies (pugs and Frenchie dogs will meet up for literally the cutest playdate possible), Puppy Hour (it's exactly what it sounds like, and it won't leave you with a hangover the next day), and finally, the Pugs & Pals café will host a Pug Halloween Costume Contest on Oct. 29.
Seriously, I'm like two pug pictures away from just booking a flight to London right now.
If this is "Puppy Hour," then I. am. in.
Pugs & Pals is also looking out for the health and safety of the pups and their owners. According to their website:
There will be appropriate cooling control for the room and fresh water provided for the pugs throughout. Pugs are breed that can get easily warm and in some instances have breathing problems so we will expect all pug owners to keep a close eye on their furry friends and bring along cooling aids for the occasion. We will do everything necessary for this event to be a comfortable and friendly avenue for both pugs and humans.
It's music to dog lovers' ears to hear about the opening of a pug café, and it's also good to know that people behind this adorable idea are looking out for the well-being of the pugs. With all the fun events going on, it's important to make sure that the pugs aren't overdoing it. I'm sure they'll want make sure to save some energy for the "Pugs versus Frenchies Fashion Show." I know, I know, just when you thought it couldn't get any more adorable.
So, if you're in the London area, do yourself a favor and head over Pugs & Pals for the undoubtedly most adorable café experience you'll ever have. If you're not close, you can still browse the adorable pug pictures on their Facebook page. Hey, it's better than nothing, right?
Check out the entire Gen Why series and other videos on Facebook and the Bustle app across Apple TV, Roku, and Amazon Fire TV.