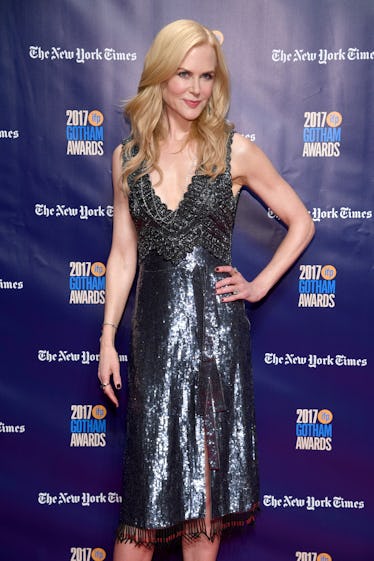 Nicole Kidman Looks Totally Unrecognizable In Her New Movie Role – PHOTOS
Dimitrios Kambouris/Getty Images Entertainment/Getty Images
Nicole Kidman is one of the most recognizable celebrities on the planet. I think almost everyone knows who she is in some capacity. The Australian beauty also happens to be an extremely dedicated actress. Right now, her commitment to her newest role is making her look so, so different. Photos of Nicole Kidman on the Destroyer set make her look totally unrecognizable.
Kidman has swapped out her strawberry blonde locks and ivory skin for a spray tan and short, choppy, brown bob. Kidman stars in the new crime-drama movie, Destroyer, as Erin Bell. According to IMDb the plot of the movie, expected to release in 2018, surrounds a police detective who uncovers some surprising things from her past. The description says,
A police detective reconnects with people from an undercover assignment in her distant past in order to make peace.
Sounds like a pretty juicy movie that's going to keep movie goers on the edge of their seats. Personally, I love these kind of crime-dramas — they're always so mysterious and engaging. With Kidman as one of the stars, that makes me feel even more confident that the movie is going to be amazing.
It's so surprising how different Kidman looks playing Erin Bell. Do you ever wonder what certain people would look like if they weren't famous? I'm kind of getting those vibes. Obviously, Kidman is beautiful inside and out, but if I passed her in an airport I for sure wouldn't recognize her.
So different, right? It's no secret that Kidman is amazing at her craft. Among shooting for Destroyer, Kidman also stars in the HBO series Big Little Lies — which just got the green light for its second season.
In the popular series, Kidman plays Celeste, a wife and mother who starts off with the appearance of living a shiny and lush life, but is actually being abused by her husband Perry, played by Alexander Skarsgård.
The series has caused such a splash, Kidman was even nominated for Best Actress in a Limited-Series or TV Movie in the upcoming Golden Globe Awards. She's going up against a slew of other talented and intelligent actresses. The list of nominees include:
Jessica Biel, The Sinner
Jessica Lange, Feud: Bette and Joan
Susan Sarandon, Feud: Bette and Joan
Reese Witherspoon, Big Little Lies
This will definitely be a tough category. Upon hearing about her nomination, Kidman told E! News,
We are all aware of how rare it is for a show and its cast to be honored in such a huge way, and we are all incredibly grateful. Thank you to the Hollywood Foreign Press for giving the show so much love. It was made with love, guided by the incredible David E. Kelley and Jean-Marc Vallée as well as my partners in passion Reese Witherspoon, Per Saari and Bruna Papandrea. The character Celeste is so precious to me and the recognition is deeply appreciated.
Big Little Lies has been recognized across a plethora of award shows. Kidman actually took home a win for lead actress in a limited series during the 69th Primetime Emmy Awards on Sept. 17. After expressing her gratitude, Kidman was sure to drive home a very important point about domestic abuse. The actress said during her acceptance speech,
Also I want them to know that sometimes when you're acting you get a chance to bring a bigger message — and this is their contribution and your contribution — we've shown a light on domestic abuse. It is a complicated, insidious disease. It exists far more than we allow ourselves to know.
I'm sure if Kidman wins in her Golden Globe category, she will once again shine a light on the important issue of domestic abuse.
Overall, Nicole Kidman is an amazing actress and everything she touches turns to gold. Keep doing you, Nicole.
Check out the entire Gen Why series and other videos on Facebook and the Bustle app across Apple TV, Roku, and Amazon Fire TV.