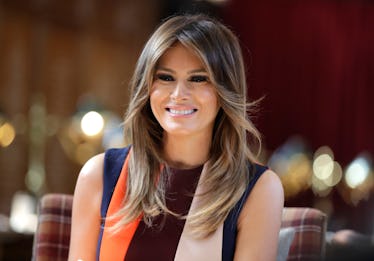 These Photos Of Melania Trump Pre-White House Show She Led A Very Different Life
WPA Pool/Getty Images News/Getty Images
Out of all the people in-and-out of President Donald Trump's White House, his wife, Melania Trump, seems to be the most confusing. While the public tends to take a hardline on other members of the Trump family, there's a bit of back-and-forth on feelings towards the first lady. Does she agree with her husband? Does she even get along with her husband? All important questions. But one thing's for sure, her life has definitely changed since she became first lady, and these photos of Melania before and after Donald became president prove it. Trust me, it's a whole new ballgame.
Trump met Donald Trump in 1998 at a New York Fashion Week party near Times Square. Donald was supposedly there to meet up with a "great supermodel" who was sitting next to Trump (then known by her maiden name, Knauss) as he recounted to Larry King in a 2005 interview. It was attraction at first sight. The two began dating shortly after and tied the knot in Palm Beach in 2005.
But Trump didn't marry Donald Trump the president, she married Donald Trump the businessman/ real estate mogul. This path was something she (along with the rest of us) probably didn't see coming, so it only makes sense that her life would be different. Judging by these photos, it's pretty obvious that Trump's life is nothing like it was.
Check out this photo of Trump and Donald at Playboy's 50th Anniversary party in 2003, posing with playmate Victoria Silvstedt. How many first ladies do you think were partying with Playboy bunnies before entering the White House? I would venture to guess not many. Now in the second photo, things are a little more buttoned up. The person the first couple is posing with is Queen Elizabeth II during the president's July 12 trip to the United Kingdom, and it's, uh, got a very different vibe. Something tells me Trump wasn't rubbing elbows with royalty before Donald entered office.
Peter Kramer/Getty Images Entertainment/Getty Images
WPA Pool/Getty Images News/Getty Images
While at times it might be hard to tell where Trump stands on her husband or his politics, it's pretty clear where she stands on her son, Barron Trump: it seems that being a good mother is very important to Trump. Even Ivanka praised her stepmother for being a great mom to Barron in a 2016 interview with People. "She's a great inspiration to me as I raise my own children in terms of family first and having the right priorities," Ivanka said.
I don't think Trump's attitude towards motherhood has changed since Donald entered office, but it does look like she's been able to expand her mothering qualities to other children. Back in 2007, Trump took Barron to the 16th annual Bunny Hop at FAO Schwarz — an annual fundraiser hosted by The Society of Memorial Sloan-Kettering Cancer Center's Associates Committee and Tiffany & Co. She seems to be enjoying it, and how adorable was Barron? Look at that bunny high five. In the next photo, though, you can see that things have changed a bit. In that second pic, Melania can be found reading to a whole group of children at the White House's annual Easter Egg Roll on April 17, 2017. A little more standoffish, though from that big smile on her face it sure looks like she's enjoying herself.
Peter Kramer/Getty Images Entertainment/Getty Images
Chip Somodevilla/Getty Images News/Getty Images
One thing that's definitely changed since the Trumps entered the White House is the complete frenzy every time Trump smiles — which apparently only seems to happen when President Barack Obama is around. But judging by some pre-White House photos, Trump was all smiles back then. Check out Donald and Trump at New York Fashion Week in 2011. Look at Trump in that pink dress out on the town and smiling wide.
Sadly, that smile is gone in the next photo from Trump's first official state visit with French President Emmanuel Macron and his wife, Brigitte Macron. Trump looks pretty stoic in this photo, unlike the 2011 one, right? Different times, different smiles.
Katy Winn/Getty Images Entertainment/Getty Images
Mark Wilson/Getty Images News/Getty Images
It almost seems like these photos show two different women, what with the switch from the flashy socialite lifestyle to the more buttoned-up role of first lady.
I can't be sure if Trump has changed over the course of being in the White House — sadly, we're not pals — but I can only imagine. She married into one life and then got thrust into another completely different one, so I'm not surprised these pics make it look like Trump's found herself in an episode of The Twilight Zone. Here's hoping she can get away at the commercial break.