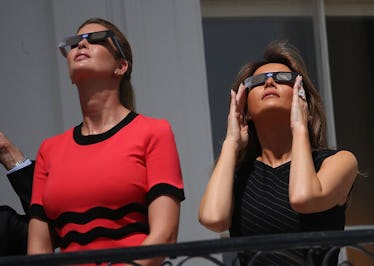 Ivanka Trump's Quotes About Melania Show There's One Major Thing They Connect On
Mark Wilson/Getty Images News/Getty Images
There's two women that the public has their eye on: Melania Trump and Ivanka Trump. While sometimes their roles in the White House are blurred, they can always be counted on to bookend President Donald Trump. But how do the two pillars on either side of the president feel about each other? These Ivanka Trump quotes about Melania show there's at least one thing they both connect on: motherhood.
Ivanka and Melania actually have quite a bit in common. They both have their own purpose in Trump's White House, they were both ambitious young women, and they're both mothers. Melania and Trump got married when Ivanka was already 24 years old, and so Melania didn't really need to be a mother to Ivanka, but she could be a friend of sorts — and that's exactly what she tried to be.
In a 2016 interview with Harper's Bazaar, Melania explained that Trump's grown children didn't really need her to mother them, "They are grown-up. I don't see myself as their mother. I am their friend, and I'm here when they need me," she said.
It makes sense, but it doesn't really give too much away about their relationship, it's also hard to figure out what Ivanka thinks about her stepmother. They don't seem to really interact too much, and as I hunted for clues and things Ivanka has said about Melania, it was a struggle. I didn't really know what to expect, but I found Ivanka seems to stay in one lane when talking about Melania. All the quotes I found were about how great of a mother Melania is to her and President Trump's son, Barron Trump. It seems like a very, let's say, diplomatic choice.