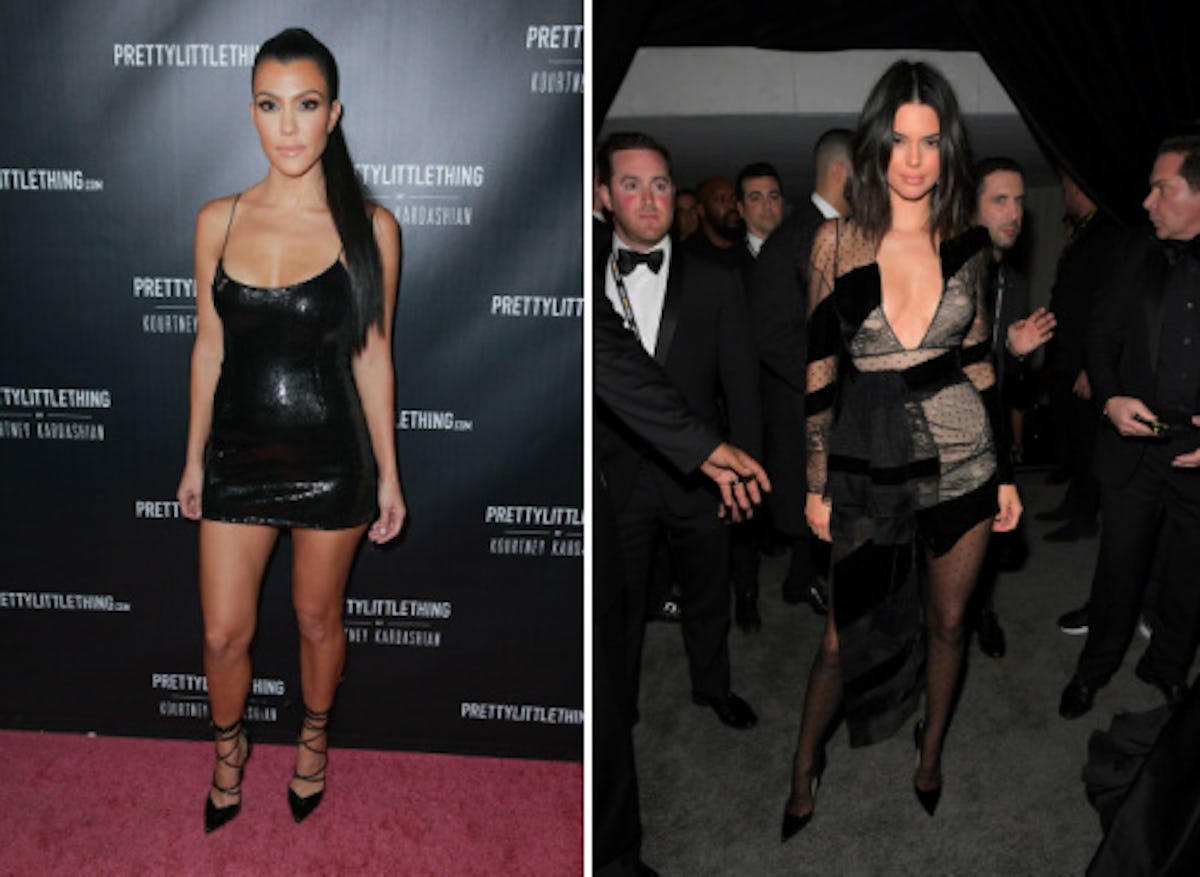 Kendall Jenner & Kourtney Kardashian Got Short Haircuts On The Same Day, Because #Sisters
Charley Gallay/Getty Images Entertainment/Getty Images
You've heard the phrase "Sisters who slay together, stay together," right? Photos of Kendall Jenner and Kourtney Kardashian's haircuts, which they got on the exact same day, prove that it most definitely holds true. Yes, the Kardashian-Jenner sisters always look insanely good, but their recent chops are exceptionally cool. Uncanny that they got them within 24 hours of one another? I think so.
The Kardashian and Jenner sisters are known for changing up their looks quite frequently: Kim seems to step out with a new color or length every month, and Kylie is notorious for rocking crazy hues like cherry red and highlighter yellow. Khloe, too, has experimented with her color and length quite a bit; she's rocked chocolate brown and golden blonde shades, as well as lobs and longer styles. And while Kendall and Kourtney have of course stepped out with subtly different cuts, their color and style never deviate too drastically from their usual looks. So when they do get a chop, it's easy to take notice.
Kendall's new cut is definitely the more drastic of the two. She first went for the lob in early 2017, when she debuted it at New York Fashion Week at the La Perla show. Blunt and straight, it grazed her shoulders and definitely gave her more of a high fashion edge. Since then, her hair has stayed pretty routine, growing out, getting small trims, et cetera. Nothing crazy. But last night, she arrived at boyfriend Blake Griffin's Los Angeles Clippers basketball game not with a lob, but with a straight-up bob. It reaches just past her chin and is devoid of layers, giving her a cool retro look. The ends were curled inwards towards her face for an especially dramatic effect.
I have been contemplating this exact crop for months now and seeing Jenner rock it makes me want it that much more. While I do not have her straight hair (mine tumbles down in mess of corkscrews and slightly waved pieces), I feel like her bob is one that would fit all hair textures. It makes Jenner look less like a Victoria's Secret model and more like a cool Swedish hypebae (or is that just me?) and I can't help but to dream it might give my look and edge, too.
Kardashian's hair transformation, however, was much more subtle than her sister's, though equally as chic. Her stylist, Andrew Fitzsimons, shared a snap of his freshly finished work to his Instagram account, captioning it, "Little trim and style today on my 👼🏻." Kardashian's signature thick, wavy hair cascades down about three inches past her shoulder and features slightly shaggy ends. It's effortless, clean, and not a huge departure from what she's been rocking as of late. In fact, had her stylist not posted the photo, I'm not sure anyone would have noticed at all.
If you'll remember, Kardashian underwent her biggest hair makeover perhaps ever at the end of last year, when Fitzsimons cut it into a shaggy lob. Her new cut almost looks like said lob has simply grown out. Regardless, it too, is a seemingly fuss-free style that I would definitely rock, though maybe not as well as her. (I think her hair was created specially by the dermal gods — it's so thick and shiny I can't imagine another answer.)
The Kardashian and Jenner sisters always serve up some major makeup and fashion inspiration and now, Kendall and Kourtney are rocking haircuts that just might inspire the it styles of spring. They're effortless, trendy, and can be styled in many ways, making them universally 'do-able. (Hah.) If you see me step out in a chin-length bob anytime soon, you know what — or who — made me take the plunge.