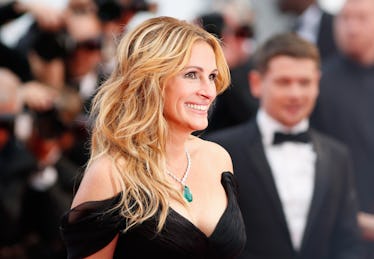 Julia Roberts Ditched Her Legendary Red Hair & She's Barely Recognizable
Tristan Fewings/Getty Images Entertainment/Getty Images
One of your (undoubtedly) favorite actresses has just gotten a major makeover in the form of a new chop and to be honest, I'm not quite sure how I feel about it. Photos of Julia Roberts' Short hair might have you clapping your hands with joy in light of the drastic change or, if you're like me, they'll leave you scratching your head in quiet lamentation of the loss of her sun-kissed waves we've all come to know and love so well.
Roberts is a straight-up icon and when an icon rocks relatively the same hairdo for most of their career it's always shocking to see them change it. Imagine if Anna Wintour got rid of her infamous chin-length bob and bangs or if Andy Warhol had decided to dye his shock of blonde hair dark. Blasphemy! Since I can remember, Roberts has largely opted for a long wavy style, with her color fluctuating only slightly from brown with blonde highlights to an all-over honey hue. But earlier this week, the actress was spotted out and about with an entirely new look: a choppy shoulder-grazing lob topped off with dramatic fringy bangs. As for the color, it's a deep chocolate brown—there's not a glint of caramel or a streak of gold in sight. It's similar to her natural color, which she hasn't rocked since the mid-2000s, and while cool, I miss her lighter locks!
If you're not sold on the look, don't worry: the new style is (most likely) a wig for Roberts' character on her new Amazon Prime show, Homecoming—the photo featuring the drastic look was shot while Roberts was on set. I could have led with that tidbit, but what fun would that be? As described by Deadline, Homecoming is "a psychological thriller that centers on Heidi (Roberts), a caseworker at a secret government facility, and a soldier ([Stephan] James) eager to rejoin civilian life." Secured for a 2-season run, the show, which will unroll in 30-minute episodes, will be released sometime this year.
Relieved? Me too. But knowing that the crop is a wig, it is interesting to see what Roberts would look like with a totally different style. As pointed out by InStyle, "the beauty look does bring back some slight Pretty Woman vibes, as her character in the 1990 classic famously rocked a blunt lob with bangs in the opening scenes of the movie." That style—a chin-grazing bob with bangs, or the French girl cut—is actually having a major moment on Hollywood right now, with Vanessa Hudgens and model Taylor LaShea both championing the trend.
If you've seen Mother's Day then you'll remember the other time Roberts was given a super dramatic bob and bangs combo for a role. The wig she wore for that film, however, was much less well-received and will certainly not go one to become one of her iconic looks. As one Twitter user wrote, "I'm gunna see "Mother's Day" just so I can bask in the atrocity of Julia Roberts' wig. Who did my queen so dirty?! " Lol. Another annoyed fan Tweeted, "Not sure if this has been discussed, but WHO the HELL put this wig on Julia Roberts for a whole movie???" Man, Twitter rules.
The last super dramatic (real) hair change the actress made was in 2002, when she went a a bright shade of penny red. Unsurprisingly, she rocked it with total ease. However, I will say that her aforementioned honey-tinted hues are still my favorites and I am so, so glad one the best ones is still here. Queen Julia, please never change.