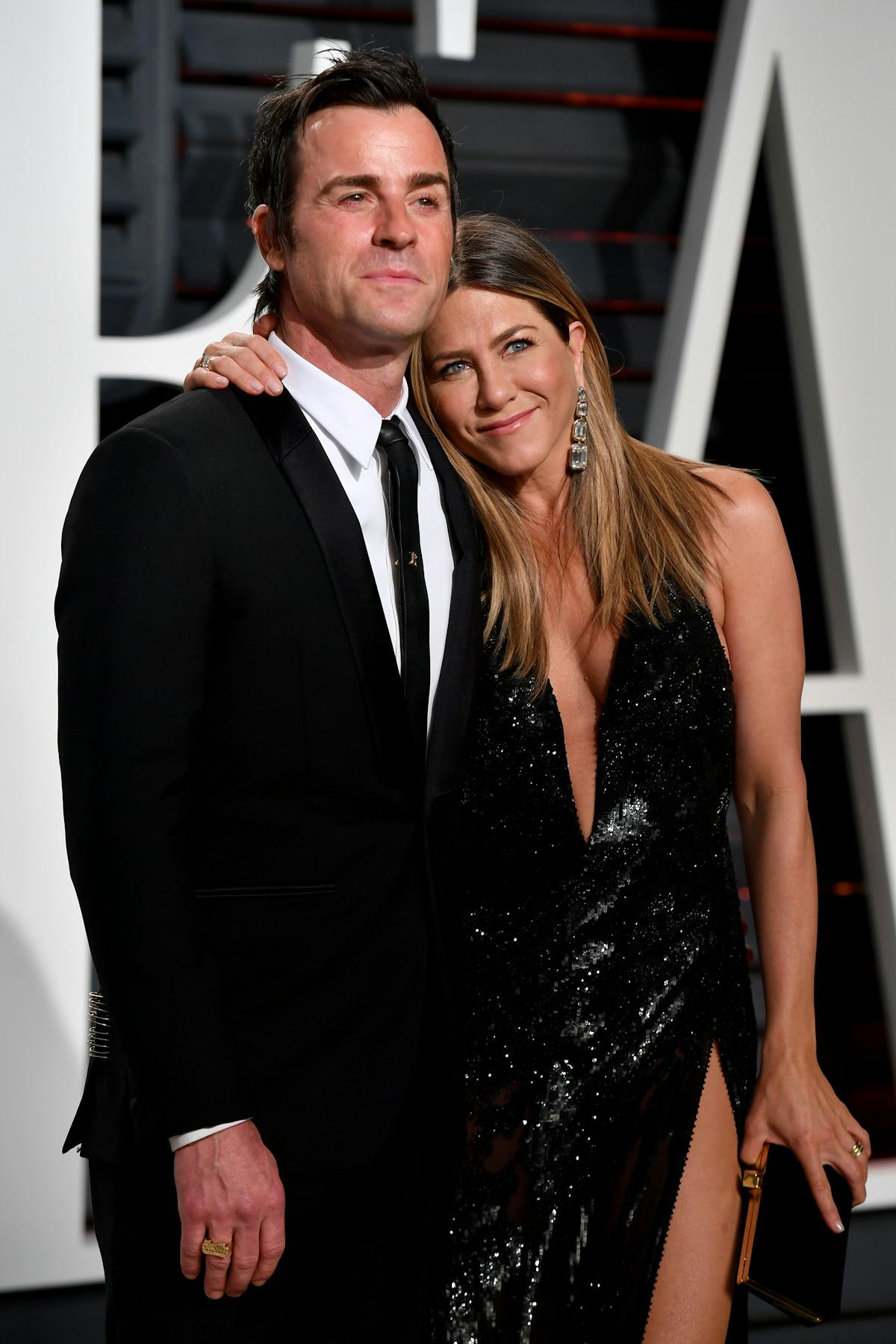 These Pics Of Jennifer Aniston & Justin Theroux Over The Last 2 Years Will Make You Cry
Pascal Le Segretain/Getty Images Entertainment/Getty Images
Well, folks, my nightmare has officially turned into a reality. On Thursday, Feb. 15, Jennifer Aniston and Justin Theroux announced their separation. WHY, WORLD? WHY? After just two and a half years of marriage, the couple that the entire universe was rooting for has called it quits. When Jennifer Aniston goes through a breakup, it's almost as if I myself am going through a breakup: I question everything, I play very moody, sad songs, and I break open my emergency bottle of wine. But you know what doesn't make the pain go away? Looking at photos of Jennifer Aniston and Justin Theroux while they were still together, madly in love. I know that I should probably just (hypothetically) burn all the photos, but I just can't. It's too hard.
Instead, I'm going to share the photos with you, so that you have no choice but to weep alongside me.
In a joint statement to ABC News, the pair addressed their separation head-on, in hopes that it would cause as little drama as possible:
In an effort to reduce any further speculation, we have decided to announce our separation ... This decision was mutual and lovingly made at the end of last year. We are two best friends who have decided to part ways as a couple, but look forward to continuing our cherished friendship.
How is this possible? How could they do this to us? WHY CAN'T YOU STAY TOGETHER FOR THE FANS?
Obviously, I know that's not really the right thing to do, but maybe they should just give it a shot???
But, sigh. It's not happening. So instead of contemplating our entire existence knowing that Jen and Justin's relationship is over, why don't we take a look back at happier times and pretend like everything is totally OK? How does that sound? Good? Good.
Look at how perfectly perfect Jen and Justin look together.
It looks like Cupid's arrow hit them hard BUT NOW IT'S ALL A LIE.
Do you see how hard they are smiling together? This is happiness that can't be faked, people.
Jen and Justin were like the down-to-earth power couple and we will NEVER SEE A COUPLE THAT'S QUITE AS COOL AS THEY WERE.
Can we all just take note how Jen's arm is wrapped around Justin's waist, showing the world that she has his back, literally?
The way they lock eyes makes my heart melt, and NOW I'M CRYING.
That's right, Jen. Lean on his shoulder and remember all the good times, just like we're all doing right now.
Look at them here, all bundled up in the cold. Funny, because that's exactly how my heart feels right about now. Cold, and as black as Jen's ensemble.
ARE YOU KIDDING ME WITH THAT ADORABLE HAND CLASP?
How did this breakup happen?
More importantly, WHY did this breakup happen?
DON'T YOU WALK AWAY WHILE I'M TRYING TO TALK TO YOU.
If anyone needs me, I'll be evaporating into a puddle of sadness and tears.
If Justin can look at Jen so lovingly and still separate, then true love is actually dead and nothing matters in life anymore.
Goodbye, cruel world. Say goodbye to the notion of happiness. Say goodbye to the notion that soulmates exist. This is it. This is the end.
Jen and Justin, we barely knew you. It felt like we were just getting started on this beautiful journey of life. And just like that, it was taken away from us.
We will miss your effortless style, your witty sense of humor, and your beautiful faces smiling together on the red carpet.
I'll be forever weeping over you two.