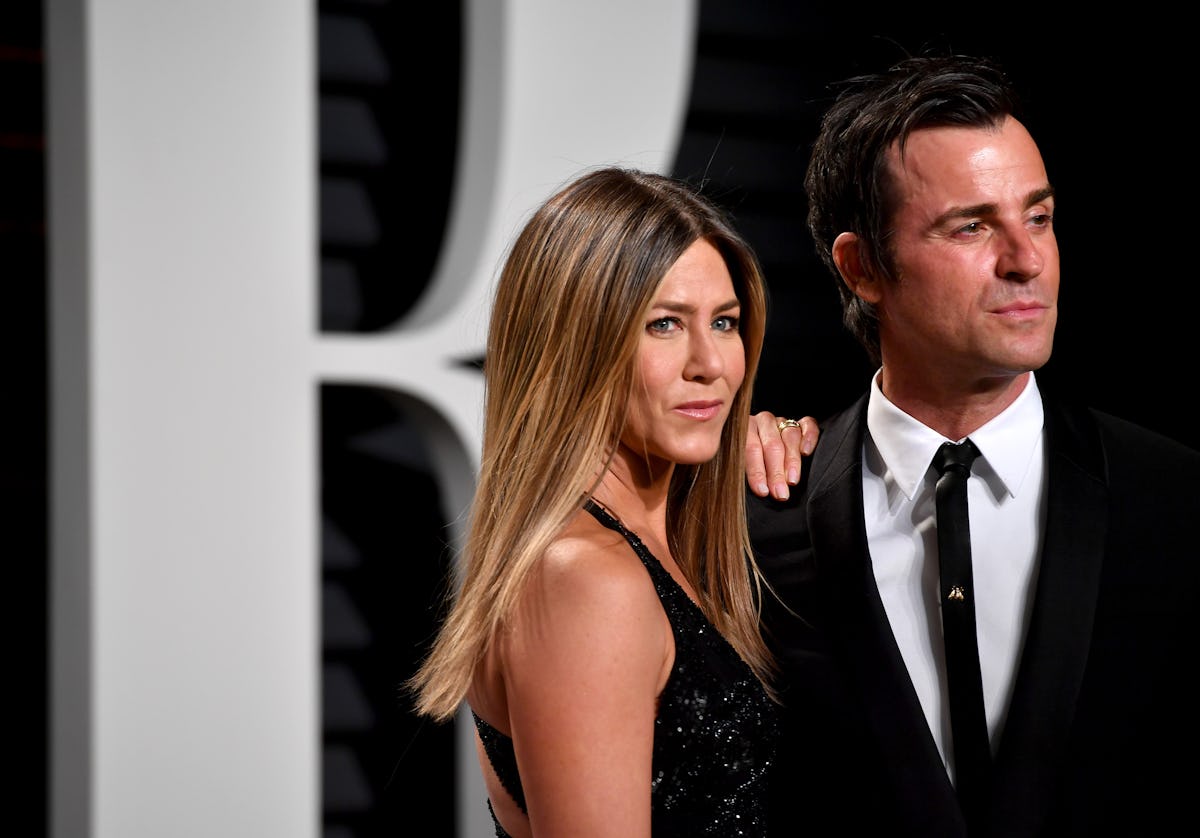 Jennifer Aniston & Justin Theroux Weren't Married As Long As You Thought
Pascal Le Segretain/Getty Images Entertainment/Getty Images
On Thursday, Feb. 15 it was reported that Jennifer Aniston and husband Justin Theroux had called things off. But how long were Jennifer Aniston and Justin Theroux together in the first place? I wasn't expecting this answer.
Aniston and Theroux met in 2008 on the set of Tropic Thunder and started dating in 2011. However it was Aug. 5, 2015 when we were all shocked to hear that the couple had wed in a secret ceremony. So, this means that the couple has actually been together for seven years. Talk about left field, I wasn't expecting that.
Despite those seven years, the couple has only been married for two and a half years. This is mainly thanks to the couple's lengthy three-year engagement, which was reportedly due to the difficulty of negotiating a prenup, according to Life & Style.
According to the Associated Press, couple released a statement through Aniston's publicist Stephen Huvane on Feb. 15, where they relayed that the decision to end their marriage was "mutual and lovingly made at the end of last year."
They said,
Normally we would do this privately, but given that the gossip industry cannot resist an opportunity to speculate and invent, we wanted to convey the truth directly. Whatever else is printed about us that is not directly from us, is someone else's fictional narrative. Above all, we are determined to maintain the deep respect and love that we have for one another.
Elite Daily has reached out to reps for both Aniston and Theroux for a comment, but did not hear back in time for publication.
Aniston and Theroux went on to emphasize that they are "two best friends who have decided to part ways as a couple, but look forward to continuing our cherished friendship."
Better friends than lovers, I suppose.
Sadly, this isn't Aniston's first brush with separation. The actress was subject to a highly publicized marriage with actor Brad Pitt from 2000 to 2005, before calling it quits. This was Theroux's first marriage, though he dated hair stylist Heidi Bivens for 14 years.
While their marriage has been notoriously low profile, many news outlets had noted that the couple had recently been spending some time apart from one another. Theroux had been spotted in New York City without Aniston a multitude of times, leading many to question whether the couple's conflicting schedules were still working for them. A source assured People that their work schedules actually benefitted the couple's marriage rather than harm it.
The source said,
Justin often spends a few days in NYC by himself. When he is in NYC, Jen will catch up with friends and enjoys her own life. When Justin is in L.A., it's very special for them. They socialize together with friends. They often go out to dinner or have people over.
Well.
While the couple might not have been able to work things out, clearly their aesthetics perfectly compliment each other's. On Feb. 7, Aniston took Architectural Digest around her an Theroux's California dream home.
Spoiler alert: it's a total stunner.
While speaking to Architectural Digest, Aniston discussed the joint design process between her and Theroux, saying that he "wanted to be involved."
She said,
Justin definitely wanted to be involved, so there was a bit of a learning curve for me on how to include another voice in the design process. For instance, I figured out that immediately saying 'No!' to any suggestion is not the most collaborative move.
Maybe the couple wasn't destined for marriage, but perhaps a joint business in interior design is in the stars for them? You never know.
Since announcement of the separation, Twitter has been conflicted on their emotions.
Some are saddened to hear of the couple's split, while a few others have theories on what this split means for... Braniston. (Aniston's ex, Brad Pitt, split from his wife Angelina Jolie in 2016.) Fans noted that the two are now both single again, and are rolling with it.
Hey it's 2018, weirder things have happened.