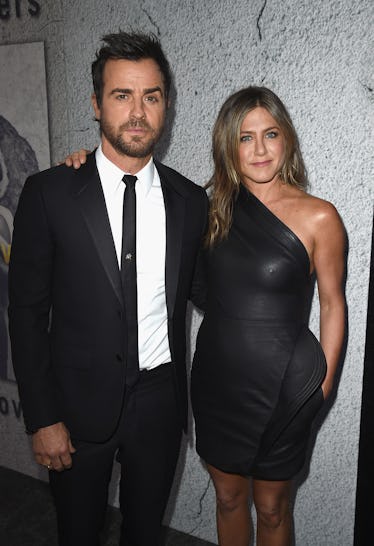 Jennifer Aniston & Justin Theroux Reportedly Separated & Twitter Is Heartbroken
Kevin Winter/Getty Images Entertainment/Getty Images
I think we all truly want good things for Jennifer Aniston. I mean, what's there not to like? That's why it's shocking to learn that she and husband, Justin Theroux, are reportedly splitting. Jennifer Aniston and Justin Theroux breaking up after two years of marriage is heartbreaking. So, why did Jennifer Aniston and Justin Theroux break up? Here's what we know. Elite Daily reached out to Aniston and Theroux's teams for comment, but did not hear back by time of publication.
A rep from the couple divulged the news to the Associated Press on Feb. 15, and it came as a big surprise. Their joint statement to ABC News read,
In an effort to reduce any further speculation, we have decided to announce our separation. This decision was mutual and lovingly made at the end of last year. We are two best friends who have decided to part ways as a couple, but look forward to continuing our cherished friendship.
Questions started popping up after Aniston's birthday on Feb. 11 when Theroux did not make an appearance to help celebrate the actress turning 49. Instead Aniston spent the night with close gal pals, including Courteney Cox.
The couple first met back in 2008 while filming "Tropic Thunder" in Hawaii. Romance rumors about the pair started swirling in 2011 and the rest (as they say) is history.
However, it definitely wasn't love at first sight, according to Aniston. She hilariously told PopSugar that Theroux reminded her of "a serial killer," but she was able to get beyond that. She said during an interview in 2012,
I thought he was very sweet and he was always very nice. But I remember thinking he was very dark. At first you think he could be like a serial killer, but he is actually the nicest person in the world.
Obviously the dark and mysterious thing worked on Aniston because the two tied the knot in 2015.
Since the public eye keeps a strong magnifying glass on these two, especially Aniston, they have gone through their share of tabloid nonsense. Previously, the couple just laughed it off, according to Theroux. He told Vanity Fair in April of 2017,
I think it would be funny to do a compilation of those headlines. Let's assume these characters we play in the tabloids are real people. I would love to take them to a shrink and have them analyzed. Like, are these people insane? Yes, they fight every day, they're constantly getting divorced, they're hoarding children at this point. Imagine what those people would actually be like! They'd be f****** bananas! They'd be the most bipolar people on the planet. Constantly storming in and storming out! Devastated! Crying! Rage! Someone should give a clinical diagnosis of one year in our lives. It would be super funny. What medication would you give these people to help them out?
Back then, Theroux mentioned that having Aniston as his support system made all the tabloid noise insignifant. He added, "Marriage makes the small things much smaller and the big things small ... It's good to have someone have your back."
This time around, their separation seems to be the real deal. It's extremely sad that Aniston and Theroux's marriage is coming to an end. Aniston is basically America's forever sweetheart so any bad headlines are unacceptable. However, it seems like she has a great support system of friends to lean on during tough times. When one chapter closes, another one opens. Right, Jen?
Jennifer Aniston, if you're reading this and need to vent, just give me a call. That's what friends are for.
Check out the entire Gen Why series and other videos on Facebook and the Bustle app across Apple TV, Roku, and Amazon Fire TV.