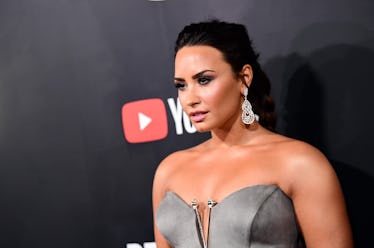 Demi Lovato Dresses Up As Selena For Halloween & Totally Nails It — PHOTOS
Emma McIntyre/Getty Images Entertainment/Getty Images
When it comes to pulling off a sexy look, one young star continues to find a way with every outfit she wears... even when it's a costume. Just take a peek at photos of Demi Lovato as Selena for Halloween. Not only are her pics super steamy, but they'll totally make you do a double take.
Lovato decided to give her followers on Snapchat a small glimpse of her sparkly, cleavage-bearing bodysuit, and of course, fans were all about the fierce look. The magenta costume sports some intense bell-bottoms, which the singer paired with black platform shoes. She definitely didn't forget to accessorize, either. To add the finishing touches to her outfit, Lovato found a pair of silver hoop earrings and even styled her hair with Selena's iconic bangs and long locks. No one would be surprised if she emerged as the winner of the costume contest.
The late Selena Quintanilla, queen of Tejano music, was truly beloved. Her emotional story and horrific death in 1995 left a lasting impression on the Latin music scene thanks to her powerful vocals and her sexy dance moves. We all fell in love with Jennifer Lopez's portrayal of the artist in the 1997 film, Selena, and there's never a time we will forgo listening to "Dreaming of You." Many people have tried to copy Selena's iconic look, and it's safe to say Lovato was up for the challenge.
Here is Selena — um, Demi — rocking the sexy jumpsuit.
Doesn't she look just like Selena?
Is it possible these two are actually related?
People definitely were in favor of Lovato's costume.
Though many were impressed with Lovato's effort, others felt as though Selena's look could not be replicated.
Even questions of cultural appropriation began to circulate on Twitter.
This isn't the only Selena in the starlet's life. Demi Lovato and Selena Gomez reunited at the InStyle awards on Oct. 23 and Disney fans everywhere began to lose their cool. Feelings of nostalgia came in strong and people were getting really excited after the two stopped for a photo op.
After a rocky history (social media unfollows, competition for "BFF" title with Taylor Swift, etc.), it seems the two singers are on good terms. Lovato's emotional documentary, Simply Complicated, has been released, and it sheds light on really heavy topics such as the star's bipolar disorder and drug abuse. In response to Lovato's tweet about the film's release, Gomez had nothing but kind words to say about her fellow singer.
Fans (of course) caught a glimpse of Gomez's comments on Lovato's Instagram. Let's face it: Nothing will slip through the cracks with diehard fans. In response to Lovato's post: "Proud to present... #SimplyComplicated. Watch the full documentary now on @YouTube!!," Gomez responded: "This was beautiful. I'm so happy for you. You always continue to [be] bold and real. I wish more people were like you." In a separate post, Gomez added, "love you."
Lovato certainly didn't shy away from difficulties, and fans have to give her credit for being so open about her struggles. She discusses her drug addiction and eating disorders in Simply Complicated, which isn't easy for anyone to witness. Lovato said,
My first time doing coke, I was 17 working on Disney Channel, and I was with a couple of friends and they introduced me to it. I was scared because my mom always told me that your heart could just burst if you do it. But I did it anyways and I loved it. I felt out of control with the coke the first time that I did it.
She also recounts difficult times with food in the documentary, saying,
I would bake cookies for my family and I would eat all of them and nobody would have any to eat. That was my first memory of food being that medicine for me. Body image, what I'm going to eat next, what I wish I could be eating, what I wish I didn't eat. It's just constant. Like I get envious toward people that don't struggle with an eating disorder just because I feel like my life would be so much easier.
Overall, despite struggles, Lovato seems to be focusing on her work, being positive with her relationships, and of course, flaunting a sexy outfit every now and then. You do you, Demi. Your fans are totally into it.
Check out the entire Gen Why series and other videos on Facebook and the Bustle app across Apple TV, Roku, and Amazon Fire TV.