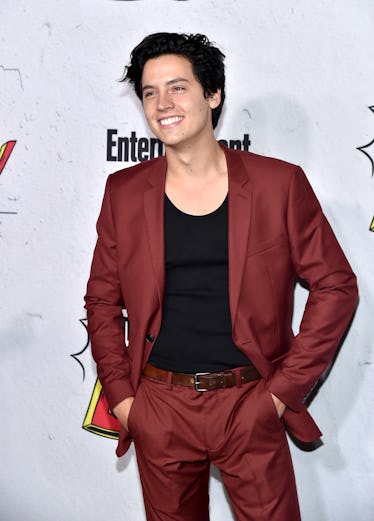 Here's How Much Cole Sprouse Has Changed Over The Past 19 Years
Mike Coppola/Getty Images Entertainment/Getty Images
Calling all Riverdale fans, Bughead enthusiasts, Suite Life of Zack and Cody worshippers, and everyone in-between — Cole Sprouse made a rare appearance on The Tonight Show Starring Jimmy Fallon and it was everything. The television star dished about the return of Riverdale and showed some fun throwback photos. The crowd favorite was definitely the photo of Cole Sprouse and his twin brother, Dylan, from the first time they ever appeared on The Tonight Show. The two appeared together about 20 years ago with former host, Jay Leno, and it's so adorable.
The television star appeared on the talk show Jan. 15 to have some fun with Jimmy Fallon. Sprouse showed off his dry sense of humor with a few sarcastic jokes and a surprising homemade gift for Fallon.
Since Sprouse doesn't make a ton of appearances on talk shows, Fallon kicked off the segment by sharing a cute throwback photo of the Sprouse twins the first time they came on The Tonight Show in 1999. Also, how was 1999 almost 20 years ago?
The photo proved that the two were obviously some of the cutest kid actors at the time. Sprouse admitted, "I don't know which one is me." As it turns out, he was sitting in the same chair and in the same position from 20 years ago.
This is what they looked like back in the day:
And here's what they look like now:
Sprouse definitely made it seem like Dylan was the talker and he was the reserved one. The nostalgia theme continued when Sprouse presented Fallon with a picture he drew that resembled the one he drew for Leno back in the day.
Fallon then pushed Sprouse for some info about the new episodes of Riverdale (which returns Jan. 17, yasssss). Sprouse jokingly responded, "I die," which I'm assuming is not true — RIGHT?!?! According to Sprouse, Jughead's tough guy persona will keep up in the new episodes. Sprouse said,
I'm riding a motorcycle and wielding a switchblade, which is something my little quivering Disney self never thought would happen.
SO. MUCH. TRUTH. Jughead has been cutting off people's tattoos and acting like an overall badass for most of Season 2. Sprouse added fans can expect,
Me, in a leather jacket, with a comb, on a motorcycle, one foot on either side of this impending war.
The war he is referring to is between the north and south side that has become even more heated as the season has progressed. Before Season 2 aired, Sprouse described the new episodes on Reddit as, "Darker and weirder. Much darker. Much weirder."
As for the second half of the season, I can't wait. It looks like a lot of questions will be answered — Who is Betty Cooper's brother? Will Betty and Jughead get back together? Why is Archie racing and wrestling Veronica's dad?
One show theory that got squashed was about the possible "twincest" between Cheryl and Jason Blossom. The theory suggests that Cheryl and Jason had an inappropriate relationship that will be exposed in the upcoming episodes. Madelaine Petsch weighed in on these rumors by saying they were flat-out untrue. She told Vogue,
The word 'twincest' has been thrown around a lot. The way that I rationalized it was that it's very clear that she grew up in a very, very dark family. The only light that she had was Jason, the only love that she ever felt was Jason. Her parents never really showed her love; they didn't really care about her; she turned to Jason for everything. The loss of him hurt her so badly, he was her person.... There was no sexual connection. It was not romantic; it was that she never felt love from any other person on the planet, so the way she justified that was by making it her person.
There's no misreading that. There are tons of fan theories floating around, and they're all actually really interesting. I can't wait to see how the rest of the season plays out. IT'S COMING BACK SO SOON.
Check out the entire Gen Why series and other videos on Facebook and the Bustle app across Apple TV, Roku, and Amazon Fire TV.