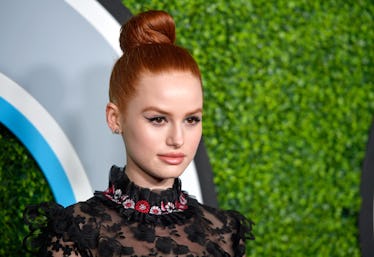 Madelaine Petsch From 'Riverdale' Responds To A Super Dark Theory About Cheryl & Jason
Matt Winkelmeyer/Getty Images Entertainment/Getty Images
Riverdale returns from their holiday break Jan. 17. Even with the hiatus, fans cannot stop obsessing about what's to come on the show. Will the black hood return? Who is Betty's brother? What the hell is happening in Greendale? There is so much fan speculation and too many Riverdale conspiracy theories floating around the internet — it's hard to determine what's real and what's not. One idea that fans have been trying to decode is Cheryl and Jason's Riverdale incest theory. People have been messing around with indicators throughout the show to prove the theory, and Madelaine Petsch (aka Cheryl Blossom) has responded to this particular icky fan conspiracy.
In case you're confused about incest and the CW show, let me explain. Cheryl and Jason Blossom are red-headed twins whom fans have been theorizing had an inappropriate relationship before Jason's untimely death. There are a few clues that have pointed Riverdale conspiracy theorists in this direction.
The first time Jason and Cheryl are introduced in "Chapter 1: The River's Edge" there's a romantic song playing in the background. The lyrics read: "Tell me/ I'm your baby/ That you'll/ Never leave me/ Tell me/ That you'll kiss me/ Forever." Petsch debunks this to YouTuber Shane Dawson by explaining that it's just a "creepy song" and that is why it was used.
There's also multiple shots of the siblings holding hands and sharing milkshakes. Cheryl even calls Jason her "soulmate" at one point in the show.
Oh, also Veronica totally calls Cheryl out for her Jason's creepy relationship in Episode 10 when the gang plays "secrets and sins."
Petsch shut down this fan theory with a thorough response explaining the dynamic relationship between Cheryl and Jason. She told Teen Vogue,
The word 'twincest' has been thrown around a lot. The way that I rationalized it was that it's very clear that she grew up in a very, very dark family. The only light that she had was Jason, the only love that she ever felt was Jason. Her parents never really showed her love; they didn't really care about her; she turned to Jason for everything. The loss of him hurt her so badly, he was her person.... There was no sexual connection. It was not romantic; it was that she never felt love from any other person on the planet, so the way she justified that was by making it her person.
In addition to confronting fan theories, Petsch also dished a little bit about working on a hit show with such a strong fan base. She revealed that the whole cast had to go through "media training" that included how to conduct themselves during interviews and how not to flash the goods to the world when getting out of the car. Petsch said it was like an actual class — you had to pass to complete it. That sounds extreme, but think of how many inappropriate shots the paparazzi have captured of people getting out of cars.
The cast of Riverdale is so awesome, and many of them have openly addressed fan theories. This includes Lili Reinhart and Camila Mendes, who spent an afternoon with Elle responding to outrageous fan theories. Some definitely didn't add up — like Archie being the black hood or Dylan Sprouse making an appearance on the show. However, a few of the ideas made the actresses raise their eyebrows and agree that it was totally plausible. For example, Betty's mom being related to the Snake Charmer... why not?
Riverdale is so addicting. If you haven't watched, you are missing out. Besides being a great show, the fanbase is so fun and interactive — you won't find a more dedicated group of people. Get in on the Riverdale drama while it's hot. The show returns to the CW on Jan. 17.
Check out the entire Gen Why series and other videos on Facebook and the Bustle app across Apple TV, Roku, and Amazon Fire TV.