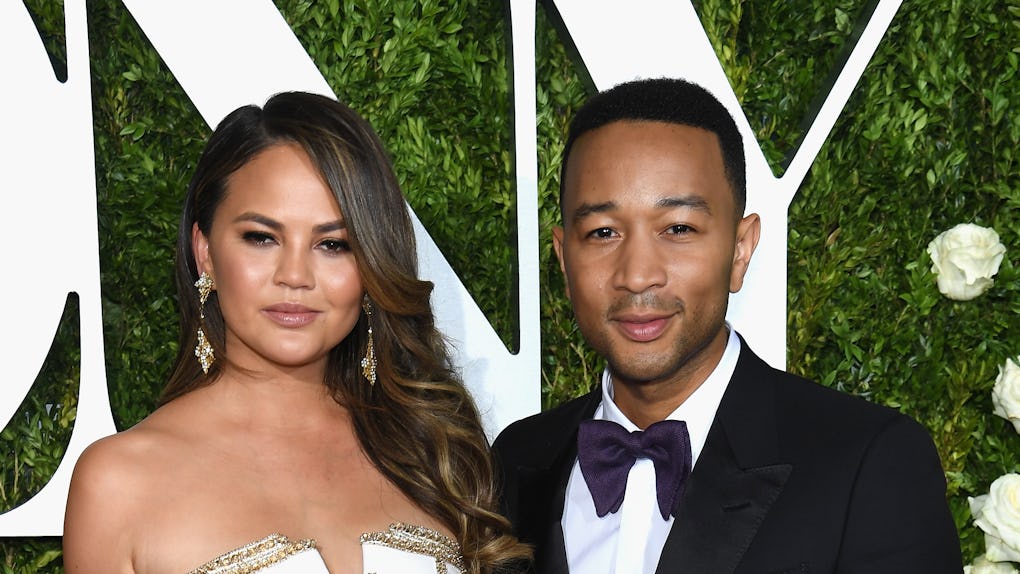 Dimitrios Kambouris/Getty Images Entertainment/Getty Images
Photos Of Chrissy Teigen, John Legend, & Luna's Halloween Costume Are So Amazing
Cute celeb baby alert! Chrissy Teigen and John Legend's daughter, Luna, might just have won Halloween completely. Luna's Halloween costume tied in perfectly with mom and dad's theme and, naturally, she looked like an absolute sweetheart, as always. The photos of Chrissy Teigen, John Legend, and Luna's Halloween costumes show they're total goals.
We've seen Luna last year sporting a hot dog, dressed with mom recently in matching avocado outfits, and now... drumroll... she was a pineapple!
Hmm. Sounds like little Luna has a definite love for food-related costumes, which isn't too much of a shocker considering mama wrote the cookbook Cravings and her next cookbook, Cravings 2, for which Luna also worked as a model.
Luna's famous mom and dad weren't also food-related with their costumes, but once you get the whole picture of Teigen and Legend together, you'll see they're telling a story and Luna is definitely a necessary piece of the puzzle.
Teigen shared a photo on her Instagram of her and Legend together: him sporting a suit and hat, big eyebrows, glasses, cigar, and mustache, and her, loaded up with bangles, clunky necklaces, a ruffled dress, and a turban showing off a sizeable amount of fruit.
If you're feeling completely clueless, no worries. This a real throwback concept (no pedestrian Marvel superheroes or Stranger Things costumes for these two), with Teigen channeling singer Carmen Miranda and Legend going full Groucho Marx. It's a shout out to the musical movie Copacabana from 1947.
Kicking it (way) old school, I see.
Seeing Teigen in her full Carmen Miranda look shows just how epic the costume is, with a midriff top and long ruffled skirt, with a slit cut up the thigh. But wait... there's more.
Check out how Luna brings the whole costume theme together because she's a little pineapple. If you look closely at Teigen's headdress, among the fruit and feathers is a pineapple. Get it?
Luna's little pineapple must have fallen off mom's head and it's the hecking cutest thing you've ever laid eyes on. Sorry, all other babies, Luna has this costume look locked down.
Luna's pineapple has a onesie shorts vibe with a green leafy collar and gold shoes that really bring it all together. Don't forget the little leafy bit on her head though, which totally sells the look.
And check out the adorable pics Teigen posted of their Halloween fun. Yeah, I'm jealous:
She also shared this sweet pic, with the caption: "lu eating hooter wings, unbothered AF." Luna = living the dream.
During a recent Vogue magazine "73 Questions" video, Teigen was asked about Luna's upcoming Halloween costume and stayed mum on the details, only sharing: "It's a secret." She was wise not to spoil the surprise.
Teigen also shared a fun Halloween craft on Instagram, showing Luna painting a pumpkin — and herself. This family just warms my heart.
Fans on Twitter were just as won over as me, it turns out, with one person tweeting: "watching chrissy teigen's snapchat stories of luna are so pure, makes me want a baby 10x more." Powerful stuff.
Another fan's reaction was spot on: "CHRISSY TEIGEN AND JOHN LEGEND'S COSTUME WITH LUNA I AM ACTUALLY YELLING THEY'RE SO CUTE." All those caps, all that yelling... I totally get it though.
One person shared: "I love Chrissy teigen's costume this year and Luna as a pineapple makes it even better."
I think we can all agree that the Legend/Teigen household knows how to do a group costume right.
Check out the entire Gen Why series and other videos on Facebook and the Bustle app across Apple TV, Roku, and Amazon Fire TV.