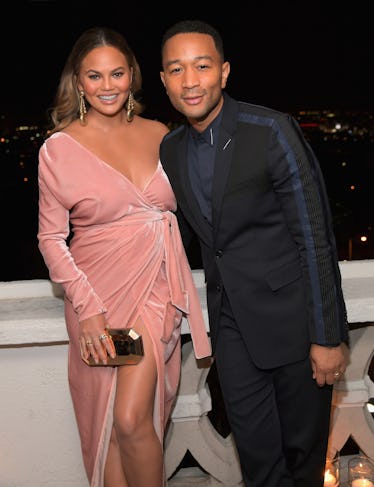 Chrissy Teigen & John Legend's Christmas Photos Are As Perfect As You'd Imagine
Charley Gallay/Getty Images Entertainment/Getty Images
The day after Christmas might be Boxing Day in the U.K., but in the U.S., the day after Christmas is when all of us stalk the Christmas photos celebrities post of their families, and more importantly, their babies. Our favorite family to stalk is Chrissy Teigen and John Legend's. The photos of Chrissy Teigen, John Legend, and Luna on Christmas are some of the best of the celebrity bunch this year.
The soon-to-be family of four (Teigen is pregnant with her and Legend's second child) spent Christmas in some kind of desert, and I don't know why, but I'm here for it all. Both Teigen and Legend posted photos of them with baby Luna traipsing around some desert, and the pictures are amazing. Teigen posted three photos of her family. The first was just of Luna wearing a sweater that says "Merry Christmas." The second is a sweet shot of Luna and her dad, the third of Luna and Teigen, and the fourth is a pic of the whole family. She simply captioned the post, "Merry Christmas!" Legend posted three photos as well, the first captioned, "Christmas in the canyon." The second was of Luna running outside, captioned, "A no filter Christmas," and the last photo was the adorable shot of him and Luna that Teigen also posted.
The whole thing is very merry and bright. 10/10.
I really feel like I'm part of the family now for no reason other than the fact that I am imagining I am part of it.
My 4-month-old niece is sitting on my lap as I type this, and she says she wants to be BFFs with Luna. No, she can't talk yet. I just know.
One could call this photo "legendary." I am so sorry.
Legend also posted this adorable selfie of the family and it's giving me life.
The Stephens family's Christmas celebrations this year have really been a joy to behold, like when they took Luna to see her first Rockette's show at Radio City. I weep at the magic that is this video.
Look at that joy of Christmas on Luna Stephens' face!!! Have you ever?! Teigen captioned the post, "Luna's first Christmas Spectacular!!! Thank you for having us, @therockettes!" Yes, thanks are definitely in order for the Rockettes. They serve year after year.
Chrissy Teigen recruited Luna to help her announce her second pregnancy with John Legend. On Nov. 21, Teigen posted a video of Luna looking at her mom's belly. Teigen asks, "Luna, what's in here?" And Luna responds, "Baby!" It's as adorable as it sounds.
Before making the announcement that Teigen is pregnant, the couple told InStyle she and Legend were planning on adding another member to the family via in vitro fertilization. The embryo they used for this round of IVF was reportedly the last frozen embryo from Teigen's fertility treatments from before they conceived Luna. Teigen told InStyle that there were originally 20 embryos, but they had to choose between the ones they knew were "going to be good for your body," and that left them with three. She told InStyle, "The first little girl didn't work, and then the second is Luna." While they haven't hinted at the gender of the new bundle of joy, they have been posting the most epic pregnancy photos ever since announcing their happy news.
Seriously, other than Beyoncé (our Lord and savior), I don't know who does pregnancy photos better than Chrissy Teigen and John Legend.
The glitz!!
The glam!!
This family is just wonderful, OK?
In addition to tweeting the above hilarious tweet on Nov. 30, Legend took to Instagram and penned a sweet message for his wife. He said, "Happy birthday to my wonderful wife @chrissyteigen! I'm so happy you were born! You bring so much light to my life and to the lives of everyone who knows you. I love you so much! Happy Birthday!!!"
Legend's birthday is coming up this Thursday, Dec. 28, so suffice it to say I can't freaking wait to see what Teigen posts in honor of him. Merry Christmas, Stephens family!!