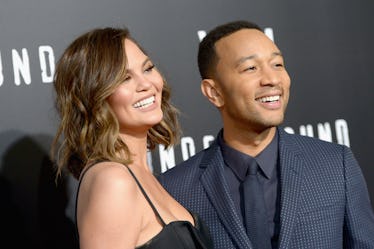 John Legend Posted A Birthday Photo Of Chrissy Teigen & She Looks Like A Literal Angel
Charley Gallay/Getty Images Entertainment/Getty Images
If you're not in love with John Legend and Chrissy Teigen's love, you need to leave immediately. Just get out of here. Because these two are the ultimate relationship goals, and if you think otherwise you clearly don't understand the meaning of love that is pure and deep and true. Once again, if John and Chrissy aren't your thing, TURN AROUND. Because things are about to get super sappy up in here. Why, you ask? Oh, no reason, other than John Legend's birthday post for Chrissy Teigen will actually make you weep tears of joy while simultaneously wondering where you can find yourself a man like that. And if I'm being honest, there are at least 500 other reasons that I can think of off the top of my head, but let's ease into this slowly and start from his adorable post on Instagram to his wife, OK? OK.
November 30 is Chrissy Teigen's birthday, and John Legend decided he wanted to be nominated for — and win — the Best Husband of the Year award by bragging about his funny, smart, smoking-hot wife. And what better way to do that than to post to social media, where millions of people can see just how much you love your significant other? (Men, take note. We might say we don't want a public shoutout but we do. My god, we do.)
Grab your tissues. Here we go:
There's a reason that his last name is Legend, folks. Because, hi, he is legendary.
And this isn't the first time he's wished his wife a sweet birthday sentiment on social media. Last year he made hearts all over the world explode, wishing his wife a happy birthday while calling her his "queen.' He said,
Happy birthday to my queen. You are beautiful, bright, funny, passionate and so inspiring. Your presence makes my life and our world so much better. I LOVE YOU!
I don't know who I wish I could be more: John Legend, so I could be married to Chrissy Teigen, or Chrissy Teigen, so I could be married to John Legend. Not picky, TBH. Happy to be either.
And, since we're hyping up John, let's not forget that Chrissy, queen of social media, is just as incredible when it's her husband's birthday. 'Memba the time back in 2015 when she hilariously realized she thought he was the wrong age for the entire year?
She wrote on Instagram:
Another year with you has flown by and I am so proud of what you've accomplished. Every year, I wonder how things can even get better but you always find a way. Happy *37th* birthday to the most wonderful, hard-working, loving being I, and anyone who has ever met you, have ever known. We love you, my handsome old man. Also I'm sorry I thought you were 37 all year.
But why would we stop there, when her 2016 post for Legend's birthday was all sorts of simple and adorable, featuring baby Luna:
If you don't want to be in this family, I don't want to know you.
OH, BUT DID YOU THINK WE WOULDN'T TALK ABOUT LUNA'S BIRTHDAY?
You savages.
For Luna's very first birthday, Teigen wished her daughter the happiest of days, saying that she is "the best parts" of her and John, adding, "We love you to the luna and back."
Is this family just gifted with great birthday-related social media posts or something? Because each one brings a tear to my eye and I don't even know these people and I feel like that's maybe not OK.
I also think it's weird that I'm grateful that Chrissy Teigen announced she was pregnant (in literally the cutest possible way), because that means more birthdays. And with more birthdays come more birthday posts.
Cheers to more sappy, witty, adorably wonderful posts from the Teigen-Legend clan!